Start Date: August – September
Studio: Based at City studio but flexible to travel to all our studios
Salary: Details provided during the initial phone consultation.
Apply now: Please send your CV and a short covering letter to recruitment@ten.co.uk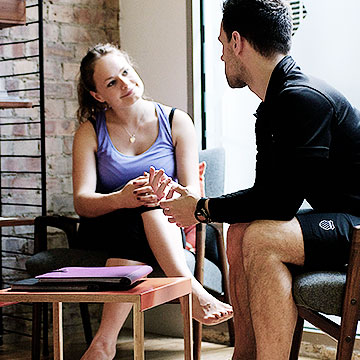 We are looking for an Inbound Sales Lead Coordinator to join our team on a full-time basis (40h per week).
Ten Health and Fitness are one of the key operators within the Boutique Fitness and Wellness sectors, offering a unique and integrated mix of Dynamic Reformer Pilates and Fitness classes, Physiotherapy, Massage therapy, Clinical Exercise prescription and Retail across 10 London sites and online. We're 6-time winners of the Tatler Gym Awards, with a 92% NPS rating.
---
About the role:
The Inbound Sales Lead Coordinator will manage and oversee the delivery of the programme across the studios to ensure that all sales leads and/or communications are acknowledged and converted into Ten clients. This is a proactive role involving relatively high volumes of activity via phone and email.
It is an entry level position that would suit a dynamic person looking to get into fitness and/or sales or someone who has already sales experience and wants to develop within a fitness/health brand.
The ideal candidate is confident and tenacious when picking up the phone and speaking to strangers and has a passion for sales and people.
---
What you'll do:
Following up with group-wide inbound enquiries promptly and effectively via multiple communication channels (phone / email / text) in order to maintain a high 'lead to sale' conversion rate.
Engaging in friendly and helpful conversations with potential new customers to understand more about their needs or goals and giving them the confidence to book in for their first appointment (physio, clinical PT) or class.
Pro-actively booking inbound enquiries into class times and/or consultation appointments via phone / email / text.
Pro-actively suggesting additional products or 'upsells' to new customers based on their needs or goals.
Communicating and/or re-affirming current offers or promotions available to potential new customers clearly and effectively via phone / email / text.
Pro-actively seeking to take payment online or over the phone when required in order to secure commitment from new customers.
Managing all leads effectively through their 'pipeline' within our lead management system (training will be provided).
Following up with non-responsive inbound leads on a regular basis with multiple touchpoints via phone / email / text / voicemail.
Continual management, upkeep and organisation of our inbound lead database.
Attending regular calls with our Front of House teams and Marketing team/partners to discuss progress, results and potential improvements.
Adopt a learning mentality, always be open to advice and coaching and take pride in your own self-development
In addition – pick up sales leads opportunity from Team@ten
---
What you bring:
A pro-active and dynamic attitude
A strong interest for health, fitness, people and sales
Evidence of being able to hit/exceeds targets is necessary
A background in sales, especially outbound sales or telesales is ideal
Knowledge of the fitness industry and/or the physiotherapy and rehabilitation sector
Knowledge of how to grow/develop client base
---
What could Ten Health & Fitness offer you?
Free Pilates classes and discounted Retail, Physio and Massage sessions
Performance Related Bonus
Annual leave entitlement increase 1 day per year
Cycle to Work scheme
---
Please send your CV to recruitment@ten.co.uk