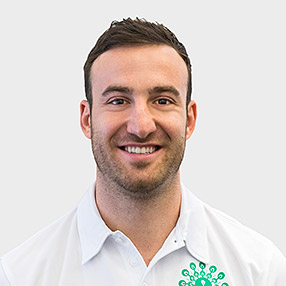 Qualifications:
Level 5 Soft Tissue Therapist
British Weightlifting Level 1 Coach
Favourite things to treat:
Quadriceps & Hamstrings.
Bio:
Alex is a Soft Tissue Therapist, trained at the London School of Sports Massage. Having completed his Level 5 qualification, he's trained to assess, treat and help rehabilitate minor and chronic injuries to improve your body's soft tissue, and to correct functional imbalance and movement.
Having been involved in competitive sport, including Rugby, Muay Thai and Olympic Weightlifting from childhood, it's no surprise that Alex has sustained his fair share of injuries. It was through his own personal experiences of pain and restricted movement that he found Massage Therapy, and quickly realised the importance of regular treatment.
Having previously worked with clients from varying physical backgrounds, he's a firm believer that Soft Tissue Therapy is highly beneficial to all individuals regardless of age, occupation and activity levels. He recommends regular treatment for any individual, as he believes that Massage Therapy is the key to maintaining your physiological health. This is because it can prevent the physical imbalances and alleviate the discomfort associated with everyday and occupational stresses, muscular overuse and many chronic pain conditions.
From neuromuscular technique (trigger point therapy) and soft tissue release, to deep tissue massage and muscle energy technique, Alex is able to draw upon a number of techniques in order to address your individual needs and ensure you reach your goal safely and efficiently.