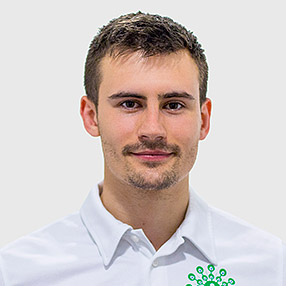 Qualifications:
Osteopathic Medicine (B.Sc. Hons)
Sports Medicine, Health and Exercise (M.Sc.)
Medical Acupuncture/ Dry Needling
Sports Massage Therapist
Fitness Instructor
Favourite things to treat:
Spinal Injuries, Shoulders, Tendons, Headaches, Sports Rehab.
Bio:
Registered with the General Osteopathic Council.
Daniel graduated from Surrey University in Osteopathic Medicine (B.Sc. Hons) in 2015. His keen interest in sport encouraged him to further his studies, and he went on to gain a Masters in Sports Medicine, Exercise and Health gaining further valuable knowledge and experience in the management of musculoskeletal disease and injuries.
Since then, Daniel has worked in private practice in several of London's top sports medicine clinics, working with a range of clients, from high-end sports professionals to recreational athletes. He has also been involved in clinical research, and published in medical journals. This strong interest in research keeps Daniel up to date with modern medicine.
Daniel is regarded as a Specialist Sports Osteopath, able to diagnose and effectively treat a wide variety of musculoskeletal conditions. Sports Osteopaths have extensive knowledge of anatomy, physiology and biomechanics, which allows them to accurately identify the cause of the problem and plan appropriate management.
Daniel Specialises in the treatment of the spine, shoulder and tendons. He also has a keen interest in Pain Science and conditions involving nerve injuries. He works closely with a number of top spinal surgeons, and is able to refer those in need, as and where necessary. Daniel has also worked closely with many of London's leading Strength and Conditioning coaches, gaining valuable insight in training methods not only for rehabilitation but also for sport performance.
His view on treatment is dictated by biomechanics and load – that the way you move can put increased stress on body tissues, leading to dysfunction and pain. This can be addressed by decreasing the stress on the tissues through changing biomechanics, or by increasing the tissues' tolerance to stress through specific rehabilitation.
Daniel has a strong manual therapy background and employs a hands-on approach, combined with individualised rehabilitation. This type of treatment has been shown to be highly effective at not only at providing pain relief, but also in addressing the underlying cause.
Daniel believes the integration of manual therapy and rehabilitation is the key to success not just for sports professionals but for everyone. He is vocal about the promotion of exercise not only for rehabilitation but for general health and well-being.
In his spare in time Daniel enjoys rock climbing, weight lifting, running and swimming.