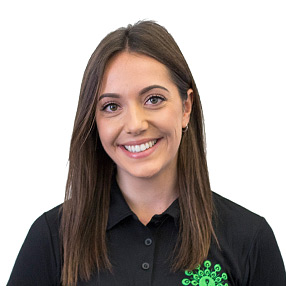 "You only get one body and one life, so look after them well."
Qualifications:
First Class Bachelor of Arts with Honours in Contemporary Dance
Master of Arts in Dance Performance
VTCT Level 3 in Swedish massage
TenAcademy
Classes:
Favourite exercise:
Plank – a position that requires minimal movement yet hugely supports posture and improves balance.
Bio:
Emily has always had a passion for dance, fitness and wellness. She began ballet training at just 2 years old. Her passion continued to grow and she became more serious about dance as a profession.
She spent 4 years at the BRIT School for Performing Arts and Technology before completing her studies and vocational training at the renowned Trinity Laban Conservatoire of Music and Dance in London.
Emily holds a First Class Honours Degree in Contemporary Dance from Laban, having written her dissertation on the prevalence and impact of injuries in female contemporary dancers. She went on to achieve a Masters Degree in Dance Performance, investigating nutrition and its affects of performance for her thesis.
During her MA, Emily was a member of Transitions Dance Company 2015 where she toured the UK and overseas.
Through her studies, Emily became fascinated with body biomechanics and body movement. Shortly after graduating, Emily qualified as a Massage Therapist (VTCT Level 3). She began her career working at a holistic practise in London. Here, she gained valuable knowledge, skills and experience with regards to the human anatomy.
Keen to put her knowledge to physical practise, Emily began teaching Barre classes, a low impact method focusing on strength, posture and mobility. This intelligent exercise method fuelled her thirst for knowledge and inspired her to qualify as a Dynamic Reformer Pilates Trainer.
Coming from a dance background, Emily's classes focus on alignment, mobility and core stability. She encourages her clients to focus on realigning the body whilst building strength.
In her time out of the studio, Emily loves to explore and travel. She enjoys adrenaline-fuelled activities and adventures.