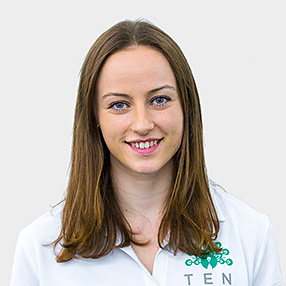 Qualifications:
Level 3 Sports Massage
BSc Sport and Exercise Science (Hons)
Level 3 Personal Trainer
Level 2 Fitness Instructing
Level 2 Circuit Instructing
Ten Academy
Dynamic Reformer Pilates
Favourite things to treat:
Sporting injuries and recovery massage.
Bio:
Francesca achieved her Level 3 Sports massage qualification whilst studying Sport and Exercise Science at Loughborough University. (She is also a Pilates instructor at Ten.)
After experiencing plenty of her own injuries on her journey to achieving a black belt in kickboxing and training for fights, she developed a personal appreciation of the importance and benefits of sports massage. She is particularly passionate about its effectiveness as part of an integrated and multidisciplinary approach to meeting exercise goals – in conjunction with targeted physiotherapy support and effective training programs.
She believes that it is important to adopt a holistic approach whilst treating and training her clients, in order to achieve the best outcome by assessing the body as a whole to find the source of the problem.
Francesca has a passion to help clients from all walks of life to relieve tension and stress from daily life as well as to improve recovery between exercise sessions.
She is able to utilise a number of different techniques including soft tissue and myofascial release, as well as muscle energy and neuromuscular techniques in order to provide the most effective treatment for the individual client.
In her spare time, she enjoys walking in the countryside with her dog, training in the gym or sparring in the ring and going to the theatre. At any chance she can get, she loves to dance, no matter where she is, particularly salsa.