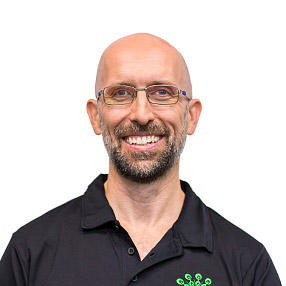 "Be true to yourself"
Qualifications:
Chek Practitioner Level 2

Chek Holistic Lifestyle Coach Level 2

Reps level 3 Personal Trainer
Kettlebell Instructor

Bulgarian Bag Instructor
Favourite Exercise:
In the gym, Kettlebell Snatch. Outside, walking up a mountain.
Bio:
One of the most experienced PT's in London, Greg began his health and fitness career in the mid 90's.
An early advocate and keen attendee of group exercise classes, Greg's career began when he was encouraged to get out in front of the classes he enjoyed so much, and teach. He gained his first (and in his own words, relatively basic) Exercise to Music and YMCA gym qualifications in 1995 and joined the Livingwell Health Club in Millbank.
Over the intervening years, Greg continued to pursue his thirst for knowledge. A frequent attendee of Fitness Professional conventions, Greg has completed more courses, workshops and CPD's than he can count.
For his first few years in the industry, Greg focused on classes, working as an in-demand instructor on the freelance circuit, teaching everything from Boxercise to Step, Reebok Deck and Spin – still a guilty pleasure for his own workouts.
Over the past decade Greg focused increasingly on PT. Working in the City, over the years he saw the same patterns of dysfunction in people working in desk based jobs. His philosophy – that exercise should make you, not break you – led him to work increasingly closely with other physical therapists, helping people return from injury, and giving them the skills and strategies that will help them achieve their goals whilst training safely, effectively and minimising the risks of future injury.
In 2016, he qualified as a Chek Practitioner and Holistic Lifestyle Coach, learning how to incorporate rest and recovery, nutrition, hydration, correct movement patterns, effective breathing and mental clarity into an overarching health and wellness approach that would support and enhance his clients' fitness journeys.
Greg likes to think of training as a "physical pension", the more you invest now, the greater the payback in your later years.
When he works with a client, establishing their goals is the first stage. Clear and concise framing of their intentions helps to maintain focus. These include short term (0-3 months), medium term (3-12 months) and long term goals (1 year onwards).
The second stage is to assess the body for any postural or muscular imbalances that could cause or contribute to injury.
The third is a lifestyle assessment, to identify and help his clients reduce and ultimately avoid the habits and behaviours that would hinder their success.
As Greg puts it "the magic takes place in the programming, exercise has to be prescribed in the same way as a doctor would medication". The use of primal pattern movements ensure that effective essential movement is factored into the training sessions, while the empathy and insights Greg has gained over almost 25 years as a fitness professional helps him understand where a client is on any given day and enables him to fine-tune their sessions to help them stay motivated, energized and on track.
Outside the gym, Greg can be found up the mountains in North Wales and the Lake District, paddle boarding on the Norfolk Broads or on the sofa enjoying Netflix. He is also a petrolhead – on his honeymoon, he took his wife to the world famous Le Mans 24-hour race. (Luckily, she is also a fan.)