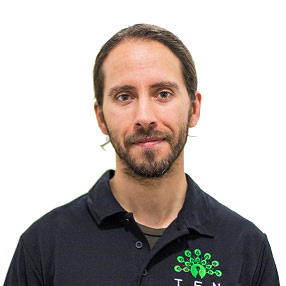 "Breathe"
Qualifications:
200h Himalayan Hatha Yoga
30h Yin Yoga
Classes:
Favourite yoga pose:
Padmasana (Lotus pose)
Bio:
João is an Andorra-born Yoga teacher and Reiki healer. Having suffered from depression since a young boy, his Yoga journey started in Portugal over 11 years ago when, upon watching an Asana practice, a seed was planted (he calls it his moment of grace).
However, the seed only really started to blossom when he moved to London to take his second MA in Film. Always drawn to the esoteric, it was only after having experienced the stillness and life-changing benefits of the Yogic lifestyle in such a dynamic city, that he travelled to India where he qualified to teach Hatha as an apprentice of Yogi Ashokananda, still his devoted teacher. He later furthered his studies with Norman Blair, adding Yin Yoga to his teachings.
Inspired by his Guru's, João endeavors to help his clients embrace the true meaning of Yoga as a holistic system. With a high focus on Pranayama, João likes to emphasize on how the breath should be used not only as a cleansing tool, but also to open a dialogue between Mind, Body and Soul – reestablishing balance through the opening of the chakras.
Clients can expect presence, with the bonus that I am also a Reiki practitioner, clients might expect a subtle healing.
Off the mat, João takes the most pleasure from the simplest things – nature, a sunset, a sunrise. And with also two MA's in Film, cinema continues to play an important role in his life.