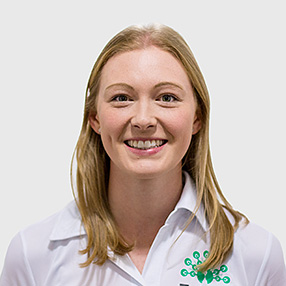 Qualifications:
HCPC
CSP
Bachelor of Physiotherapy, University of Otago, New Zealand
Dry Needling
Post-grad certificate in Vocational Rehabilitation
Favourite things to treat:
Shoulder, hip and knee injuries as well as biomechanical assessments for prevention of further injuries.
Bio:
Registered with the Health and Care Professions Council.
Graduating with a Bachelor of Physiotherapy from the University of Otago, New Zealand, Kate began work in a busy central city physiotherapy practice and boutique gym in Wellington, where she could fulfil her passion for sports and injuries, and consolidate her skills.
Over the course of her career, Kate she has developed an increasing interest in the analysis of human movement mechanics, incorporating a biomechanical element to all her assessments. As a result, she is able to develop a complete understanding of the patients' current condition and develop a plan not only to improve their symptoms, but also to look for a long-term management plan to ensure the client can reach their peak performance.
She finds this approach equally valuable and effective for clients of all ages and walks of life, from athletes, and casual runners, to deskbound executives and stay-at-home mums.
Like many people actively involved in sport, Kate has suffered her share of injuries over the years, which she has managed either conservatively or progressed onto surgery. Her first-hand experience gives her great empathy for her patients, and sympathy for the difficult times, physically and mentally, that can follow an injury.
Kate has also worked with an amateur club level football team in New Zealand as the team physiotherapist. This included supporting coaching and management staff to assist the players following injuries and developing pre-season injury prevention programmes.
Kate moved to London in April 2018 with her husband (also a Physiotherapist at Ten) and is excited about seeing more of England and Europe. She'd welcome any suggestions on where to go for a long weekend.