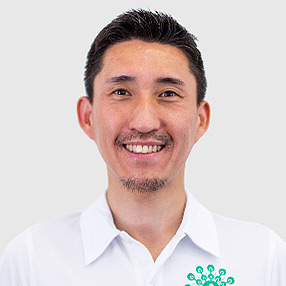 Qualifications:
BTEC Level 5 Therapeutic Massage
ITEC Level 5 Sports Massage Therapy
ITEC Level 3 Massage
Deep Tissue Massage
Table Thai Massage
Indian Head Massage
Instrument-Assisted Soft Tissue Mobilisation
Osteopathic Articulation Technique
Kinesio Taping
Medical Acupuncture (Dry Needling)
Level 3 First Aid
Favourite things to treat:
Round shoulders. Lower legs. Jaw & temporal muscles.
Bio:
Japanese-born Kohei completed his Massage training at St Mary's University, Twickenham and the London School of Massage, gaining an ITEC Level 5 Sports Massage Therapy and a BTEC Level 5 Therapeutic Massage.
His interest in Soft Tissue Therapy encouraged him to continue learning different approaches to treat the human body. He is also qualified in Indian Head Massage, Table Thai Massage, Instrument-Assisted Soft Tissue Mobilisation (IASTM), Medical Acupuncture (Dry Needling), Kinesio Taping and Osteopathic Articulation Technique. Kohei will assess each patient's need before selecting the techniques and disciplines at his disposal that he thinks will be most effective and beneficial for them.
Kohei believes that a thorough understanding of anatomy and body movement mechanism – along with the issues and imbalances that can result – is the fundamental key to the best practice. (Even casual exercise can cause injury.)
For instance, running with bad gait or weak glutes can cause lower limb issues. Cycling heavily can overuse quads, which can in turn cause knee pain. Rotational sports like tennis and golf require more flexibility and stability in hip rotation, without which, players can suffer from knee injuries. Kohei tries to find and treat the real cause of your body problems by assessing your posture, gait, range of motion of joints and muscle conditions.
His skills are not limited to treating sports-related issues. Musicians would also find his treatment effective. The movements of muscles and joints in sports and those in playing instruments are created by the same muscular mechanism. A keen pianist himself, Kohei has deep understanding how your fingers, hands and arms are used and moved around while playing an instrument.
Kohei has dedicated his life to entertaining other people and bring extra happiness to them. Before becoming a Massage Therapist, he worked for a media company in London for a decade promoting Japanese culture through events and publications, after obtaining MA in second language acquisition at the University of Greenwich. He was also the Tokyo Tourism Representative in the UK and contributed to Tokyo winning the 2020 Olympic and Paralympic Games. Even now, his top priority is still the same – to bring satisfaction and a big smile to the people he sees.
Kohei is keen on leading a healthy lifestyle – no smoking, no caffeine, no alcohol at home, cooking healthy food, going to the gym and swimming three times a week and playing the piano to release any stress (not that he has much). He enjoys movies and classical concerts. Formula 1 is his most favourite sport and he has travelled around the world to see some of the grand prix.