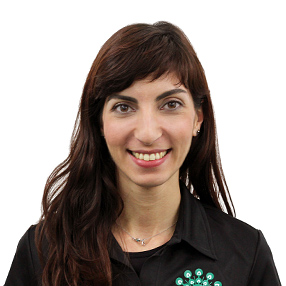 "We are made to move!"
Qualifications:
TenAcademy
BSc. Physical Education and Sport Science
MSc. Applied Nutrition and Dietetics
Mat & Equipment Pilates Trainer (Reformer, Cadillac, Chair, Barrel)
EREPS Certified Group Fitness Instructor, Personal Trainer and Pilates Teacher (EQF Level 4)
First Aid
Classes:
Favourite Exercise:
Pike
Bio:
With an BSc in Sports Science and an MSc in Applied Nutrition and Dietetics, Maria is passionate about improving overall well-being, through the combination of nutrition and exercise.
Eager to extend her knowledge and increase her skills as a Personal Trainer, she attended a private fitness school, in parallel with her studies. Throughout her career, she has continued to seek out opportunities for education and training to further enhance her abilities.
An athlete from childhood, Maria studied ballet classes and rhythmic gymnastics up until the start of her undergraduate studies. She discovered and quickly fell in love with Pilates at University.
An EREPS Certified Personal Trainer and Pilates Teacher (EQF Level 4), Maria is qualified across the full range of Pilates equipment, including Mat, Reformer, Tower and Chair. For the past few years, she has worked at some of Athens' leading private gym clubs, and more recently as a Nutritionist Assistant, formulating individual diet plans for clients.
Her never-ending passion and energy to learn innovative ideas and concepts led her to relocate to London and become part of the Ten team.
Maria enjoys being surrounded by joyful and positive people who maintain a healthy lifestyle and enjoy the emotional, mental and physical benefits of regular exercise.