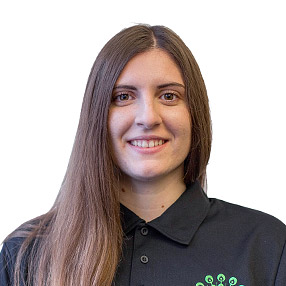 "It's never too late to start moving."
Qualifications:
BSc Sport and Exercise Science (First Class with Honours)
MSc Clinical Exercise Science (Distinction)
Level 4 Cardiac rehabilitation instructor
Level 4 Cancer rehabilitation instructor
Level 4 Stroke rehabilitation instructor
Level 4 Pulmonary rehabilitation instructor
Level 3 Exercise referral instructor
Level 2 Fitness instructor
Ten Academy
Classes:
Favourite Exercise:
Pike
Bio:
Having grown up in Greece, it's no surprise that Maritina developed a love for the water from a young age. At 9 years old, she started swimming competitively and she went on to achieve several national championship titles throughout her career. And it's the countless hours that she spent training both in and out of the pool, that inspired her interest in human physiology.
Keen to develop this interest further, Maritina went on to complete a degree in Sport and Exercise Sciences in the UK. She achieved First Class Honours and her academic success saw her rewarded with an NHS placement. There she gained extensive experience in cardiac rehabilitation by working closely with patients, and focusing on exercise prescription and lifestyle modification.
Inspired by this placement and eager to further develop, she went on to pursue a Master's Degree in Clinical Exercise Science at the University of Portsmouth. The course gave her both valuable scientific based knowledge and practical 1-1 experience with a variety of special populations who suffered with chronic clinical conditions. Specifically, she spent a year working for the NHS team based in Portsmouth and Southampton Hospitals, specialising in clinical exercise delivery and prescription for cardiovascular, neurological, oncology and respiratory conditions.
On a personal level, Maritina finds purpose in helping people from all walks of life to live happier and healthier lives. She believes that even small changes can make a huge difference to some one's life, and she loves to be part of their journey as the discover that – seeing them achieve physical and mental improvements with her support helps too!