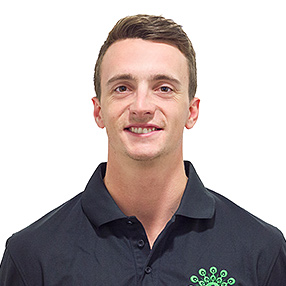 "Don't worry about the destination, enjoy the journey!"
Qualifications:
TenAcademy
BSc Hons Sports & Exercise Rehabilitation (GSR),
REPS Level 2 Fitness Instructor
REPS Level 3 Personal Trainer
Level 1 Immediate Care in Sport
Classes:
Favourite Exercise:
Deadlift (a great total body exercise, perfect for building strength and preventing injury!)
Bio:
Matt is a Graduate Sports Rehabilitator (GSR) with a wide range of experience in Strength & Conditioning, Personal Training and Coaching.
Over the years Matt has developed a passion for fitness and sport, both as a competitor across a range of sports, including American Football, and as an exercise professional – helping his clients move and feel better.
Matt takes pride in providing the stepping-stones to an active, healthy lifestyle through enhancing movement, strength and fitness. Sustainability and prehabilitation have always been a key part of Matt's training philosophy, and he takes pains to identify any imbalances or inherent weaknesses that create potential injury risk to his clients and to implement a plan to minimise them.
Over the past three years Matt has widened his experiences as a Sports Rehabilitation Therapist and Fitness Coach with clients of all ages and capabilities, from young athletes to the elderly. He has also worked with amateur and professional athletes in many challenging environments, from national sporting venues, to televised events. He has also worked with Osteopaths and Massage Therapists to develop his knowledge and skills in the treatment and management of injuries.
Although Dynamic Reformer Pilates is a relatively new discipline for Matt, his unique skill set and coaching experience have set him up perfectly for this challenging and exciting step in his career. The reformer provides the perfect combination of stability, strength and movement training – principles that Matt has studied and applied as a Rehabilitation specialist and can't wait to develop further with Ten!