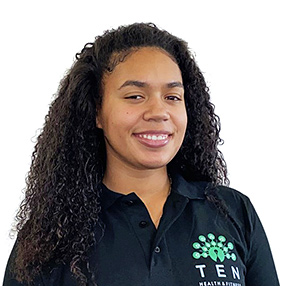 "Don't limit your challenges, challenge your limits!"
Qualifications:
Health coach
Personal trainer
BSc Sport psychology
Sports massage diploma
MSc Sport rehabilitation (on-going)
Level 4 strength and conditioning (On-going)
Exercise referral diploma (On-going)
Favourite Exercise:
HEADSTANDS! (My favourite thing to do because I taught myself and requires a lot more strength than it is given credit for! Also…it looks cool!)
Michaela is a netball player with a passion for all things health and fitness. Having played netball at various levels since the age of 10, she is currently playing in the EY South Eastern Tier 1 with university. To say she loves to play sports is an understatement.
After studying sport psychology as an Undergrad, Michaela is now completing her master's degree in sport rehabilitation. However, she is always keen to learn and advance her knowledge, and as a result she is also currently completing her exercise referral diploma along with strength and conditioning and pre/post-natal exercise.
Michaela is passionate about getting every population involved in creating a lifestyle that will provide them with the best quality of life possible, regardless of any acute or long-term challenges they may face. She has worked as a fitness instructor for several places over the years and discovered a real love for teaching and helping people to achieve results. She prides herself on being inclusive of all ages, genders, cultures and populations, and therefore does her best to be as well-equipped as possible to help each individual that steps into her class.
Why Ten? Because Michaela believes we are everything she stands for. She doesn't just want to teach people how to move – she wants to teach them how to move well.
If people were to describe Michaela in 3 words, they would say: energetic, motivating and inspirational. And a fun fact – Michaela was a member of the Girls Venture Core Air Cadets for 6 years, and used to take lightweight aircraft flying lessons!