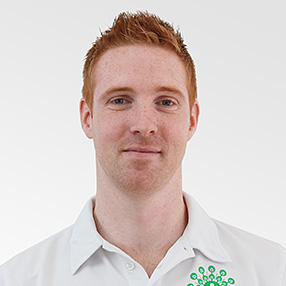 Qualifications:
HCPC
MCSP
BSc Physiotherapy (Brunel University)
Favourite Thing to Treat:
Knee injuries, low back and neck and sporting injuries, post op rehabilitation.
Bio:
Registered with the Health Professions Council.
Paul graduated from Brunel University in 2006 with an Honours Degree in Physiotherapy.
He began his career working as clinical lead at a semi professional football club, working with both the first team and the club's Academy, where he developed a keen an interest in sports physiotherapy and in rehabilitating players back into high-level sport after injury.
Paul moved into Private Practice in 2010, working at a top end London fitness club, gaining a wealth of experience in the management of a wide range of musculoskeletal complaints, before moving to New Zealand to further develop his skillset, working at one of the country's most renowned clinics.
While he has extensive experience in the management of the entire body (from small sprains/strains to post op reconstructions), Paul has a particular interest in lower limb injuries and biomechanics. His treatment approach is heavily geared towards targeting the underlying cause of a patient's problem, ensuring that the symptoms are eased as as quickly as possible, and more importantly, that they don't return.
Paul returned to London in March 2015 to join the Physio team as clinical manager at Ten's Chiswick Studio.