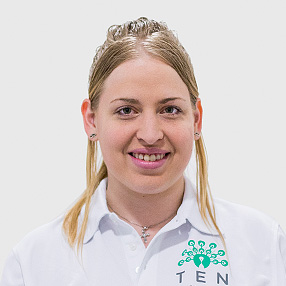 Qualifications:
Medical Massage Therapist
ITEC Level 3 Massage Therapist
Pregnancy Massage
Favourite things to treat:
Stress and tension around the neck and shoulders.
Bio:
As a child in Hungary, Reka loved sports and was a keen majorette, becoming the youngest choreographer and coach in her style.
She qualified as a Medical Massage Therapist in 2009. Highly experienced in deep tissue/sport massage, lymphatic drainage, and segment massage technique, she has been based in London since 2011.
With a range of different techniques at her disposal, Reka will base her treatment around the response of the client's muscles, allowing the client's body to dictate the techniques and levels of pressure that will provide maximum benefits.
To keep her knowledge updated, Reka continues to study, taking the opportunity to align her her Hungarian qualifications with the UK's. In addition to updating her massage qualifications, she is midway through a physiotherapy degree.
In her free time, when she's not studying, Reka loves going to different dance classes, particularly reggae and salsa. What energy she has left, she spends on her other passions, baking and cooking.