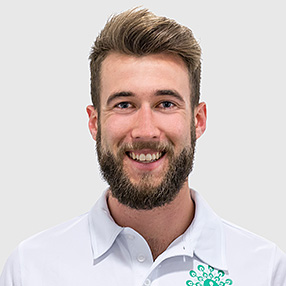 Qualifications:
HCPC
MCSP
Bachelor of Health Sciences (La Trobe University)
Master of Physiotherapy Practice (La Trobe University)
Dry Needling and Myofascial Release
Favourite things to treat:
Sporting injuries, spinal pain, adolescent and child specific conditions, pre and post-operative rehabilitation, gait and biomechanical analysis.
Bio:
Registered with the Health and Care Professions Council.
Rob graduated from La Trobe University in Melbourne, Australia. During his studies, he worked as an exercise scientist at a speciality clinic for chronic spinal pain and pre/post-operative rehabilitation. Rob has since had a special interest in the management of spinal conditions and works closely with his patients to restore function and decrease pain.
In 2015, Rob helped to set up and open a musculoskeletal physiotherapy practice in Melbourne specialising in the management of spinal conditions as well as children and adolescent specific conditions.
He quickly established himself as a leading child and adolescent physiotherapist across the city, running specialist strength and conditioning classes as well as biomechanics sessions for patients. He is passionate about providing a holistic approach, ensuring there are no gaps in a patient's health management.
Through running a practice, Rob's passion for forming close relationships with surgeons and health professionals blossomed, ensuring all patients were managed optimally both pre and post operatively. With rehabilitation a clear focus, Rob ensures that all health professionals work together to achieve the best patient outcomes possible.
In addition to his experience with chronic pain sufferers, Rob has also spent time working with elite and sub-elite athletes – primarily footballers, sprinters and Australian Rules footballers. This includes acute pitch-side management as well as clinic-based assessment and rehabilitation.
An avid runner and gym-goer himself, Rob loves to help clients return to their chosen activity as soon as possible.