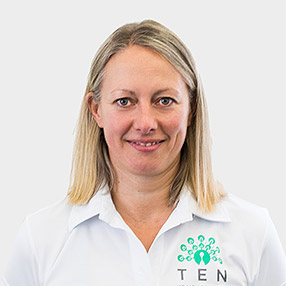 Qualifications:
BTEC Dip level 5 soft tissue therapy
ITEC holistic massage
Sports & Remedial massage
Deep tissue massage
Level 2 fitness instructor
Favourite things to treat:
Neck, glutes and feet.
Bio:
Tammy been involved in sport since primary school, but was inspired to take took it more seriously at the age of 9 after watching her older sister compete and thinking 'I can do that'. This attitude saw her compete at national level in a range of track & field events, triathlons, trail running and netball – which she still plays regional level now.
Having started her career in the finance sector, Tammy followed her heart and retrained as a Massage Therapist 4 years ago.
After qualifying she was fortunate enough to work with professional footballer squad with Ipswich Town (though she is adamant that was not a factor in their relegation the following year!) She has since gone on to work with a number of elite sportsmen and women, and is able to bring her own experience and insights within sport, to help her relate to many of the injuries that she sees.
She still believes that prevention is better than a cure and will always advocate for regular maintenance massages to ensure the body is functioning at its optimal level.
Tammy is also a qualified Athletic field judge. In her spare time, she has helped with coaching at her athletics club and volunteered at the 2012 Olympic Games, the hockey champions trophy, the athletics world championship, Prudential ride, the London marathon and for the past 4 years at the six-day cycling.