Start Date: Ongoing
Job Closing Date: NA
Studio: At any of Ten's Studios across London
Salary: A range of roles and contracts available including employed, part time, and freelance.
Apply now: Please send your CV and a short covering letter to recruitment@ten.co.uk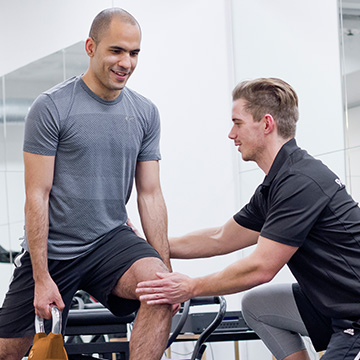 Are you an expert in functional or corrective training? At Ten we incorporate functional training and corrective exercise into our classes and are looking for Personal Trainers who specialise in these fields to join our team.
A client-focused role, you will deliver one-on-one sessions with clients and would be provided with training to be able to teach our Dynamic Reformer Pilates classes. You would work within our multidisciplinary team and learn from industry experts.
At Ten we offer careers, not just jobs. We support Trainers in progressing their skills and knowledge by offering paid and ongoing training including REPS accredited courses and workshops.
---
Qualifications and skills
– Exercise / sports science degree and/or a combination of industry qualifications equating to REPs level 3. E.g Diploma in Sports Science, plus advanced personal training course.
---
Experience:
A minimum of 2 years' experience in teaching fitness classes and/or conducting personal training sessions (preferably, both).
We would love to hear from you if you fit the above description and are:
Positive
Upbeat/energetic
Collaborative
Curious
Customer Focused
Reliable
And of course, love what you do!
Please send your CV to and cover letter to recruitment@ten.co.uk
We have a range of roles available, from employed to freelance, part time to class only contracts. We take all our Trainers through our academy which is a REPS accredited Dynamic Reformer Pilates course
For details of our academy please visit here: www.ten.co.uk/academy
---
Why do our team choose to work at Ten?
"The chance to build a career and the in house education was a big factor for me."
"Working with other allied health professionals such as physiotherapists and massage therapists in a multidisciplinary team."
"I decided to work for Ten because I wanted to share my knowledge and awareness of the body so that I could help people to have a better understanding on how the body works and how to get the best benefits from Pilates."
"We have someone to talk to when we need, this is amazing because we don't just come in and do our job, but we are guided and supported throughout our training and the working hours ensure we give the best we can."
"Since my first interview, I realised how seriously we take our job at Ten. We have a great team who is well trained and prepared to handle any circumstances. There is no space for laziness and this was clear from the moment I joined."