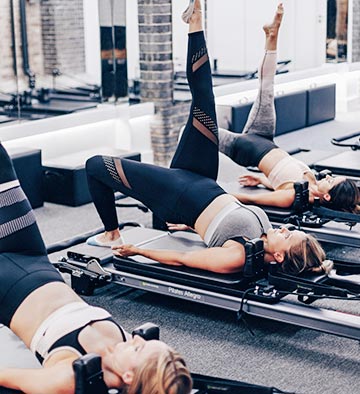 Why Come to Reformer Pilates for Beginners?
If you're new to Ten or to Pilates, or haven't exercised for a while, this is the class for you. While it's still a workout, we'll also be focusing on getting you familiar with the Pilates Reformer and on practising the techniques you'll need to isolate muscle groups and activate them correctly.
If it's your first class, you should make sure you arrive at least 10 minutes early. This is to allow you enough time to complete our registration form and meet the Trainer. Please be aware that if you have not done this before the class starts, you may not be able to train.
Is Beginners Reformer Pilates right for me?
A basic level of fitness is helpful, but not essential. Beginners classes are open to everyone and they're the perfect introduction to our Dynamic Pilates programme.
Offers
Find a class
What will Beginners Pilates be like?
You'll be introduced to the equipment, techniques and some of the basic Pilates moves that underpin the Ten programme. The focus is on understanding how the core muscles work, learning to activate them correctly, and beginning to improve your general strength, flexibility and posture.
Whilst these are introductory classes, and less intense than some of our other classes, we'll still make sure you challenge your muscles and get those all-important endorphins flowing.
What should I wear for Beginners Pilates?
You will get hot, so wear clothes that allow you to move easily and stay cool. You won't need shoes – you but you will need to wear Pilates socks (if you don't have any, don't worry – they're available to buy at Reception). We provide water and towels.
If you're new to Reformer Pilates, get your first pair of Ten Grip Socks for just £12. Available in Studio only.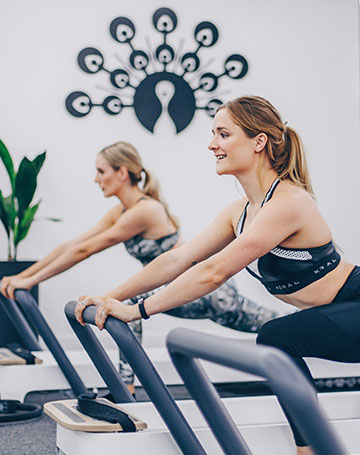 Benefits of a Beginners Reformer Pilates Class
You'll find out what makes Ten's Dynamic Pilates so addictive and effective, and how to use the Reformer equipment. The faster you become confident with the equipment and techniques, the sooner you'll start seeing the benefits of your training.
You'll also start building up your core strength, flexibility, and muscular endurance, so that when you move up to the intermediate and advanced levels, you'll find the experience easier and more enjoyable, and the workout more effective.
Available as 45 and 55 minute classes.
Offers
Find a class
FAQ's about Reformer Pilates for Beginners
Can beginners do Reformer Pilates?

Absolutely. There's no need to start with Mat Pilates. The Pilates Reformer is one of the most effective and adaptable pieces of exercise equipment available anywhere, which means it can be set up to meet the specific needs of a wide group of clients - anyone from an absolute beginner who's new to Pilates and/or exercise, to the most advanced hardcore Pilates practitioner.

How easy is it for beginners to learn Reformer Pilates?

While the Pilates Reformer can look intimidating, it's actually a simple and easy-to-use piece of exercise equipment. Similarly, Pilates moves are not complicated in themselves, but they do need to be performed properly, with the correct technique, focus and precision. The best way to learn Reformer Pilates is to attend classes or 1-1 sessions with a qualified Reformer Pilates instructor. They will help you understand how the Reformer works, help you master the basic techniques and exercises that underpin all Pilates practice, and guide and support you as you progress.

Ten Pilates Reformer tips for beginners

Go to classes or 1-1 sessions with a qualified Reformer Pilates instructor. Don't try and teach yourself from a book or video.
When you're doing a standing/kneeling Reformer exercise, always step onto the standing platform first – not the carriage.
Pilates is all about technique, and if you're finding an exercise surprisingly easy, you're probably doing it wrong.
No matter how strong or gym-fit you are, you're likely to struggle at first. This is normal – you're working muscles you probably haven't used before.
Slower is better. It's easier to do an exercise fast, but often that means you're using momentum rather than strength. The slower you move, the better your technique has to be, the more effective the exercise will be and the less the risk of injury.
Expect your instructor to put their hands on you from time to time. It's the most effective way for them to correct your form or posture and make sure you're set up to get maximum benefit from your session.
If you want to see benefits, frequency is key. If you train 3 times a week, you'll be amazed how fast you progress.
Know when to stop. Don't be tempted to keep going until you can't do a single more rep. Technique fails before muscles do, and that's how injuries happen. Instead, keep going until you can't do another rep without losing your form or technique. Then shake it out, and if necessary reset, and go again.
If you find yourself shaking during a hold. Don't worry. It's supposed to happen. That's what hard-working muscles do.
Don't worry about what the person on the next reformer is doing. The only person you're in competition with is yourself.