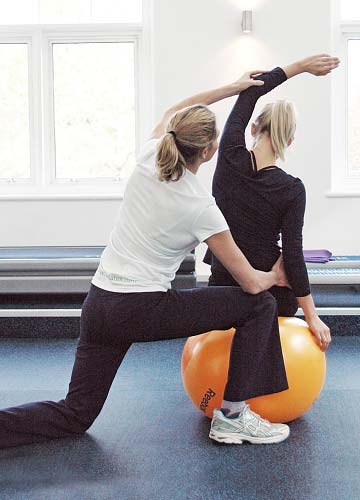 For anyone today living with one of many chronic life-changing clinical conditions – cancer, heart disease, diabetes, and menopause amongst them – recent advances in medicine mean that the focus today is as much on life after diagnosis as it is on treatment.
TenClinical exists to help maximise quality of life for clients living with these conditions, or their aftermath. We do this by providing bespoke, specialist, clinically proven and highly effective physical exercise sessions within a welcoming, inclusive and empowering boutique environment.
The evidence in support of this kind of exercise during and after treatment is overwhelming. And the benefits, both physical and mental, are huge.
About TenClinical
Since 2012, Ten Health and Fitness has set out to bridge the gap between the fitness sector and the medical community.
TenClinical is the latest step in that process, providing bespoke exercise prescription for clients with an identified clinical need – specialising in those diagnosed with cancer, heart disease, diabetes or women's' health conditions. Through exercise therapy, we support the benefits of their treatment and improve the speed and quality of their recovery.
We have strong relationships with London's leading hospitals, consultants, surgeons and clinical practices. Many of our clients are referred to us by them.
TenClinical exercise sessions are led by qualified and clinically experienced physical trainers, with fully integrated physiotherapy support.
Every client has a full clinical, functional and musculoskeletal assessment, which underpins the development of his or her individual programme. All sessions are closely monitored, with regular assessments to evaluate performance and measure improvement.
We're also able to support referring surgeons, consultants and medical teams by providing them with detailed, quantified feedback on client progression and outcomes.
Outside their 1-1 sessions, clients have access to Ten's in-house massage and physical therapy teams, along with nutritional guidance and mindfulness coaching to support them on their journey.
TenClinical is uniquely able to offer a rigorous clinical approach within a welcoming, supportive and empowering boutique environment, and, through our Circle of care, to enable clients to progress from illness through rehabilitation and clinical exercise to functional exercise and fitness.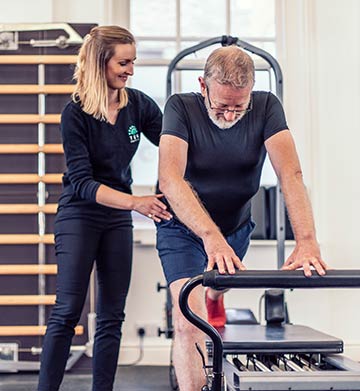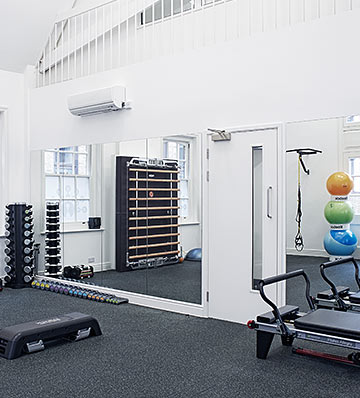 Why TenClinical?
No other fitness provider in London is able to offer a comparable service.
Mainstream gyms, personal trainers and fitness providers generally lack the capability to deliver Clinical exercise. Gym staff are not qualified in or capable of working safely with clients whose conditions require specialist skills and training. Designed for 'DIY' workouts rather than expertly guided sessions, gyms typically lack our sustainable approach to exercise, level of trainer expertise and in-house Physio and Massage therapy and rehab capabilities.
In contrast, Ten has a in-depth of experience providing expertly taught guided sessions (whether classes or 1-1), and we offer a uniquely integrated and in-house Circle of Care, to support our clinical capability, along with a significantly more expert, personal, inclusive, supportive and welcoming experience.
TenClinical is not the only provider of Clinical exercise in London; there are also a number of specialist single-clinic practices. While we share their rigorous clinical approach, ours is delivered within a welcoming and empowering boutique environment. In addition, for clients progressing from clinical to more functional exercise we have the 'downstream' skills in-house that they lack. In fact, we're already providing 500 hours a week of expertly-taught, highly effective and sustainable exercise sessions to a broad range of ages and abilities.
Lastly, with 10 Studios throughout London we're more readily accessible to clients wherever they live and/or work.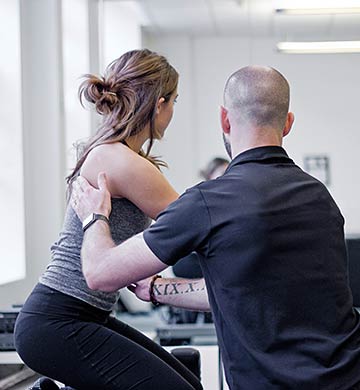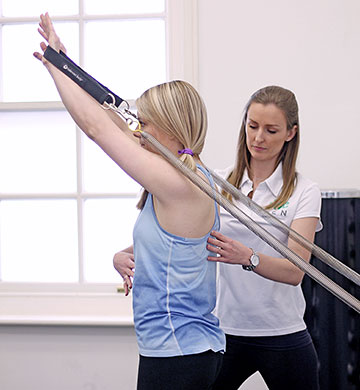 "TenClinical has replaced my self-doubt with confidence and made me stronger – both physically and mentally. I now join Reformer Classes, which is something I never thought I'd physically be able to do again."
---
What's Clinical Exercise?
Clinical exercise differs from standard personal training sessions in a number of ways, the most fundamental being that goals are dictated by the client's needs rather than their wants.
So rather than being about aesthetics, weight loss or running the marathon in under 4 hours, the first priority is client safety, with sessions designed around proven scientific and medical principles to help clients manage a life-changing condition and improve quality of life.

Unlike normal personal training, collaboration and information sharing with the clients' consultant is ongoing, along with frequent measurement and evaluation of baseline clinical indicators, especially blood pressure, resting heart rate, body weight/composition and blood glucose/cholesterol.
Each condition requires a different approach. For example:
With cardiac issues, continual measurement – and more importantly, management – of heart rate is paramount, so it's measured every 2 minutes during sessions.
With oncology clients, there's more focus on resistance work to build lean muscle, proven to improve resilience before, during and after chemotherapy and other treatments. In addition, session content and approach are tailored to fit the fatigue stages of treatment cycles.
For clients going through or post menopause, key areas of emphasis are on blood pressure management, and on optimising the effectiveness of resistance work to combat the body's reduced ability to generate lean muscle.
For diabetes sufferers, there are strong links between diabetes, difficulty in managing weight and coronary heart disease. So for safety, glucose readings are taken at the start and finish of every session. Additionally, sessions are tailored to ensure that exercise is conducted in the 'fat burning zone' (utilising energy from fat lipids rather than glucose or glycogen). The higher body mass that frequently accompanies diabetes puts undue pressure on bones, ligaments and joints. As a result, sessions also focus on injury prevention – correcting compensatory movement patterns and encouraging safer, more functional patterns.
All sessions are totally bespoke in every detail.
Medication can affect the way the body tolerates exercise, so clients' prescription, dosage, and frequency are incorporated into session planning and programming. As are external factors that can impact either clinical symptoms or physical capability – including client lifestyle, external stress levels, and mood.
Even environmental influences like music, lighting and behaviours are tuned to maximise the benefit from each session.
"The team created a personalised program that accounted for my limitations and capabilities, with an eye on rebuilding my body slowly over time."
Specialisms
– Oncology

2.5 million people are living with cancer in the UK, with numbers predicted to rise to 4 million by 2020 (Source: Macmillan)

Studies show that prescribed physical exercise can reduce recurrence risk, decrease fatigue and improve physical fitness and quality of life in cancer patients throughout treatment and afterwards.

During cancer treatment, exercise releases endorphins which improves mood and as well as helping reduce some of the side effects of treatment. Afterwards, it can help to recover physical function as well as reducing the risk of cancer reoccurring, and other long-term conditions developing (heart disease being one of the more common), by 40% to 50%. (Source: National Cancer Institute).

– Cardiac

7 million people in the UK are living with cardiovascular disease. Of those, 2.3 million people are living with coronary heart disease. Cardiovascular disease is responsible for 25% of all deaths per year. (Source: British Heart Foundation)

Hypertension (high blood pressure) is one of the most common medical disorders, associated with an increased incidence of cardiovascular disease.

Exercise is a cornerstone therapy for the primary prevention, treatment, and control of hypertension, particularly cardiovascular training. Aerobic exercise lowers resting blood pressure and heart rate for up to 22 hours post exercise as well as stimulating fat loss, which reduces strain on the heart and circulatory system, which can result in a reduction in prescribed medications.

In addition, a combination of aerobic exercise and resistance training helps to build muscle mass and boost metabolic rate, again aiding weight loss and reducing dependency on medication.

– Diabetes

4.5 million people in the UK have diabetes, an increase of 60% in the last decade, with numbers expected to top 5 million by 2035. (Source: Public Health England, Diabetes UK).

Diabetes is now the fastest growing health threat of our time, and one of the top 10 causes of death in first world countries. However, more positively exercise has been proven to have both acute (short term) and chronic (long term) influence on those sufferers. Over time, it can can result in a reduction in diabetes-related medication as well as a reduction in the associated cardiovascular risk factors.

– Menopause

30% of the female population – that's 13 million women in the UK alone – are going through or are in menopause. (Source: MenopauseUK)

A natural part of the ageing process, Menopause affects women in many different ways, some of the most common being hot flushes, difficulty in weight-management and increased levels of fatigue. It has also been associated with increased susceptibility to clinical disease.

Two major concerns are the rise in atherosclerosis (a narrowing of the arteries due to the build up of plaques that can result in coronary artery disease, stroke, peripheral artery disease or kidney problems) and increases in the body's bad cholesterol levels (LDL) combined with a decrease in good cholesterol (HDL).

Exercise and nutritional focus have been seen to be beneficial by slowing such effects during the transition through menopause, and afterwards. It is particularly effective at lowering levels of bad cholesterol and triglyceride (fat molecules carried in the blood that can increase the risk of heart disease at high levels), along with supporting weight management and reducing waist-to-hip ratios.

TenClinical works closely with leading Harley Street consultant Nick Panay, whose Hormone Health clinic provides medical support and treatment options to clients with with a range of menopause and hormone related conditions.

– Coronavirus Recovery

Ten's Coronavirus Recovery programme is an evidence-driven, clinically proven recovery and rehabilitation programme. It is designed to help reduce the impact of Long Covid symptoms and help you recover faster.

If you have had Coronavirus and are now virus-free but are still experiencing symptoms, you are welcome to join the Ten Clinical Coronavirus Recovery programme.
Meet the Team
– ADAM HEWITT

(MSc,BSc, CanRehab) Clinical Lead

Masters in Strength and Conditioning (Rehabilitation) - Middlesex University
Bachelors of honors in Sports and Exercise Science - Exeter University
Cancer Rehabilitation (Advanced Level 4) - CanRehab

Adam comes to TenClinical with over 10 years experience in rehabilitation. Adam has a depth of experience working with various clinical populations. He provides expert and bespoke exercise prescription for clients diagnosed with a range of life-changing conditions including heart disease, cancer, mental health, eating disorders and diabetes.

Having previously managed a leading Harley Street clinical rehabilitation company, Adam is Clinical lead at TenClinical, building on already strong relationships with many of London's major hospitals and clinics, as well as with leading oncologists, cardiologists and diabetes specialists.

For Adam, working with clinical clients is as much vocational as it is professional. His approach is empathetic, positive and highly personal.

For him, it is crucial that whatever his clients are undergoing, he is on their journey with them, and much of his personal motivation comes from having the opportunity to be a part of someone's rehabilitation through their toughest times.

– FRANCES BOWDEN

(BSc, BACPR, CanRehab) Senior Clinical Trainer

Bachelor of Honors - Sports and Exercise Science - (Loughborough University)
British Association for Cardiovascular Prevention and Rehabilitation - Advanced Level 4 - (BACPR)
Cancer Rehabilitation - Advanced Level 4 - (CanRehab)

Frances previously worked in leading Harley Street and City clinics, where she saw patients with a range of diagnoses, but focused on cancer and cardiac patients.

Qualified as a Level 4 BACPR exercise professional together with CanRehab, Frances is an expert in clinical exercise prescription. She is a firm believer in breaking down the mental barrier of 'I'm sick therefore I can't' and using exercise to help a patient psychologically just as much as physiologically.

Frances' favourite part of her role as Clinical Trainer is giving people the confidence in getting back to exercising post diagnosis and seeing the positive results that exercise can have on the side-effects of medications and cancer treatments.

– ADAM RIDLER

(BSc, CanRehab) Clinical Trainer & Master Trainer

Sport was always a passion for Adam, leading him to study Sports Science at university, initially focusing on strength & conditioning and performance enhancement, but quickly developing skills in other areas.

It was whilst studying that Adam's other passion emerged, as he was introduced to rowing. He went on to become part of the Great British Lightweight development squad, enabling him to work alongside Olympic champion coaches and athletes.

Working with people to help them move well and understand their bodies is something Adam particularly enjoys. For him, what brings greatest satisfaction is working with people to overcome barriers, unlock their potential and understand what makes them feel their best.

Adam is a hugely experienced fitness professional. In addition to spending many years as a Personal Trainer and Dynamic Reformer Pilates instructor, he has also worked in corporate wellness, teaching employees to become more active throughout the day, and understanding both the short term performance and long term health benefits this brings.

He has also worked in the emerging and increasingly important field of Exercise as Medicine, leveraging the latest insights and data to demonstrate how exercise can be an important element in the prevention, treatment and recovery process for various illness and diseases.

By keeping an eye on the latest research and key opinions Adam believes in following the best practice and evidence based methods to continue to move forward with his skills and teaching methods.

Away from the studio Adam will most likely be found outdoors, ideally on the water, and still competing at the odd national event.

– TOMMY MARSHALL

(MSci, CanRehab) Clinical Trainer

Masters - Sports and Exercise Science - (University of Bath)
Cancer Rehabilitation - Advanced Level 4 - (CanRehab)

Tommy has been physically active for as long as he can remember, playing recreational to semi-professional football over the years before a back condition stopped him in his tracks.

Combining a lifelong enthusiasm for movement and activity with his love of science, Tommy took his first career step by graduating from the University of Bath with an MSci Sports and Exercise Science degree.

Tommy has always been dedicated to helping people achieve their goals/rehabilitate from life altering conditions through exercise interventions. Suffering from a back injury himself he knows first-hand how affective exercise rehabilitation can be. Especially when underpinned by science and research. Tommy's master's degree sparked his interest into clinical exercise as it taught him the science behind how exercise and daily physical activity can improve the quality of life and retard and/or prevent a number of chronic diseases.

Tommy is a firm believer that exercise is medicine. He loves helping people meet their goals no matter how big or small – meeting any goal is a step in the right direction. He is driven and enthusiastic to help empower clients to reach their full potential. Tommy took his first steps towards being a qualified clinical trainer by attaining his Level 4 Cancer Rehabilitation qualification.

– NATACHA QUINTAL

(BHSc, BA) Clinical Trainer

Bachelor of Health Science, Honours in Biokinetics
Bachelor of Arts, Sport Psychology
First Aid Level 1, 2, AED and Oxygen training
Theraband CLX

Natacha qualified as a Biokineticist in South Africa in 2015, she received an invitation to join the Golden Key International Honours Society due to her academic achievement, specializing in scientifically based rehabilitation of a broad spectrum of conditions ranging from orthopedic conditions, chronic diseases, neurological conditions, sports injuries and general health and fitness.

Coming from a multi-disciplinary practice, Natacha has worked closely with specialists, GPs, physiotherapists, and chiropractors, enabling her to understand the importance of the circle of care and what is best for the client. Natacha is a very caring and friendly individual who puts maximum effort into each and every session, she prides herself on ensuring that her clients achieve their personal goals, whether it be to reduce pain and improve their quality of life or to improve pre-operative strength to reduce recovery time. Every achievement is worth celebrating.

– FRANCESCA DENTON

(BSc, BACPR) Clinical Trainer

Francesca has always been an advocate of "Exercise as Medicine" which led her to complete a placement year at the Leicester Diabetes Research Centre at Leicester General Hospital and at The National Centre for Sport and Exercise Medicine during her studies at Loughborough University. Here she gained valuable experience and knowledge regarding clinical exercise with many different populations specifically diabetic, COPD and cardiac patients, by working closely with physiotherapists, doctors and research staff. Through her research experience, evidence-based practice has become one of her core values, which forms the strong foundation of her bespoke sessions for each client.

Francesca is passionate about improving mental health through exercise as a stress and anxiety reliever. She believes breaking down mental barriers is key for every client not only to achieve their physiological goals, but to gain confidence to do things you never thought were possible by celebrating the small steps along the way. Most importantly, she believes finding exercise that you enjoy and benefits your specific needs as a client, is the key to reaching those long-term goals.

– GEORGIA HEAVEN

(BSc) Clinical Trainer

Georgia graduated with a Sport and Exercise degree from Loughborough University. Her degree gave her valuable scientific-based knowledge on the latest clinical and exercise research.

You can expect your sessions with Georgia to be scientifically researched and tailored to your needs and goals – endorsing the approach that exercise is medicine. Georgia takes a behavioural approach to her clients' journey with Ten, creating progressive and individualised exercise programs to help support long-lasting lifestyle change.

You'll come away from your sessions with Georgia not only moving better and with more confidence.

– CARYS WARD

(MSc) Clinical Trainer

Carys was born in New Zealand and has always been extremely passionate about health, wellness, and the human body. A moto that she lives by is 'practice what you preach'. Upon completing a degree in Exercise Science, and a Postgraduate Diploma and Masters in Clinical Exercise Physiology at The University of Auckland Carys followed her passion into clinical exercise rehabilitation.

During her two years of completing her Postgraduate Diploma and Masters, Carys accumulated 600+ hours within The University of Auckland Health and Rehabilitation Clinic. This enabled Carys to work professionally with a variety of patients whom had a wide range of health conditions (e.g. Cardiovascular, hematological, musculoskeletal, metabolic, neurological, and pulmonary) within a clinical yet adaptive setting.

Carys believes that 'Exercise is Medicine' as it is a fundamental element that enables you to stay healthy not only physically, but also mentally, and emotionally.

Carys is always committed to assist patients in achieving a healthier lifestyle and their fitness goals through enjoyable yet individualised, and evidence-based practice (testing, and exercise prescription). She is also extremely eager to continue learning, to not only advance her knowledge and expertise but also to assist in creating the most appropriate and beneficial programs for her patients.

To Carys, Reformer Pilates is a beneficial way of exercising as it incorporates stretching, loading and corrective components without putting too much pressure on weight bearing joints.

– SANTIAGO GALLEGO

(MSc) Clinical Trainer

MSc Exercise Physiology
PGdip Health-Science and Sport

Following his post-graduate course in Health Science and Sport, Santi began his career as a clinical trainer in Brazil, where he specialised in cardiovascular rehabilitation. With his skillset, he quickly built up relationships with the local GPs and consultants, working closely with their patients.

Santi believes in creating bespoke programmes for each individual, calling on his experience to adapt and modify exercise prescription.

He is an expert in dealing with patients suffering from cardiovascular and pulmonary conditions. He is supportive, caring and motivational to his clients, including them in the programme the whole way, giving them confidence to get moving again following what might be a life changing event.

Santi has always been driven to expand his knowledge, keeping up-to-date with the most cutting-edge research and information. He went on to complete a Master's Degree in Exercise Physiology at St Mary's University in London, with the focus on specialist populations with chronic conditions (diabetes, cancer and heart disease).

For Santi, there is nothing more rewarding than working with a client and helping them to overcome any adverse situation, step-by-step, and to improve their quality of life.

In his free time, he loves to be active himself. Hiking and outdoor activities are his passion. Along the way, he loves to stop and capture the moment, with his excellent photography skills.

– MATT NEWMAN

(BSc) Clinical Trainer

BSc Sport, Health & Exercise Science

Matt believes that having a passion for what you do is one of the keystones to happiness. He developed a love for sport and fitness at an early age, turning his hand to any sport he had the time to try. This passion continued to grow throughout school and university, where he studied Sport, Health and Exercise Science, and developed a speciality for human physiology and the beneficial effects of exercise.

After graduating, Matt honed his clinical rehabilitation skills whilst working within cardiac and cancer care. Matt enjoys nothing more than being a part of your journey, working with you every step of the way to meet your health and fitness goals, whatever they may be.

In Matt's view, one of the most fascinating parts of clinical exercise prescription – and exercise in general – is that no two people are the same. During his sessions you can be assured that every individual's needs, goals, and requirements are carefully considered, with each person receiving a programme and experience truly unique to them. Matt believes the greatest success of his day is when his client leaves their session with a smile and a sense of achievement.

Outside of the studio, you'll likely find Matt in the gym, on the rugby pitch, or running on the streets of London. Besides sport, he also enjoys experimenting with healthy recipes in the kitchen, accompanied by good music and bad singing.

– KIRSTIN FERRIE

(BSc) Clinical Trainer

Bachelor of Science Honours Sports Science (University of Pretoria, South Africa)
Certified Strength and Conditioning Specialist (NSCA)

Kirstin's keen interest in exercise from a young age sparked her love for all sports. Leading a very physically active lifestyle, it's no surprise that she participated in triathlon at a provincial level.

This motivated Kirstin to obtain her honours degree in Sports Science from the University of Pretoria, South Africa. It was there, during 400+ hours of work experience in prehab and improving athletic performance, that she discovered her potential to positively influence the lives of those beyond the professional athlete spectrum.

Taking a holistic approach to life, Kirstin genuinely believes movement is a medicine that can create change in a person's physical, emotional and mental states.

Kirstin has a passion for working with clients to provide individualised exercise prescription that is enjoyable for each person. In doing so, she is able to help alleviate symptoms of anxiety and depression, and improve quality of life by boosting strength, stability, flexibility and confidence, whilst applying all the scientific foundations of sports science. Helping others keeps Kirstin inspired – there's nothing she loves more than guiding them to achieve their goals, being part of their progress and putting a smile on their faces.

– DARIO GENOVESE

(MSc) Clinical Trainer

BSc Sport and Exercise Science
MSc European Master of Science in Health and Physical Activity
BACPR

Dario has always had compassion for others. Driven by his desire to help people improve their quality of life, he has worked hard over the years to develop his skills in order to make this his career.

After graduating with his Sport and Exercise Science degree in Rome, Dario took the opportunity to complete his European Master of Science in Health and Physical Activity, which allowed him to study the principles of exercise therapy in the clinical environment. Through this, he came to understand just how beneficial exercise medicine is in multiple areas – from the improvement of mental health and the preservation of cognitive function in later life to the prevention and management of cardiovascular and respiratory conditions.

To expand this knowledge and deepen his understanding of these conditions, Dario trained further with a BACPR course, liaising with other professionals at the Imperial College Healthcare NHS Trust at the same time to improve his ability to apply cardiac rehabilitation principles in everyday practice.

Using this experience, Dario always looks for the best possible ways to enable clients to achieve their goals, and overcome any barriers and limitations they may be experiencing as a result of life-changing events.

– SKYE WHISTLER

(MSc) Clinical Trainer

BSc Sport and Exercise Science
MSc Clinical Exercise Physiology
Level 4 Cardiac Exercise Instructor

Skye has had a passion for sport for as long as she can remember. Growing up in the UAE, it was there that she discovered the positive influence of an active lifestyle. She participated in athletics, Netball, and swimming all at a highly competitive level, which continued into university Netball.

Skye holds a degree in Sport and Exercise Science. This provides her with important scientific knowledge on the most recent clinical and exercise research. Whilst completing her bachelor's degree Skye accumulated 300+ hours of voluntary activity that resulted in a gold Go Herts Award.

To expand the knowledge learnt during her undergraduate and to feed her compassion for helping others, Skye has worked hard over the past year to complete her Master's in Clinical Exercise Physiology at the University of Portsmouth and finish her BACPR course concurrently. This has met her personal goals in ultimately creating and applying cardiac rehabilitation principles to individualised exercise prescriptions.

Skye is a strong advocate for prescribing (using) exercise to prevent and manage mental health and has found it very effective at both preventing onset of depression and managing symptoms either on its own or together with other treatments.

For Skye, making sure that clients feel comfortable and encouraged to achieve a healthier lifestyle whilst realising their fitness goals, no matter what their ability, is the ultimate goal. She believes that small steps towards success is key to maintaining any exercise routine.

Having experienced her fair share of athletic injuries, She is keenly aware of the psychological and physical impact this has on an individual. Using this experience has helped her understand the changes that occur to peoples training goals and hopes to support clients through their individual journeys.