Physiotherapy at Ten
We harness the power of Physiotherapy to change lives. Whether it's in-house at one of our West, Central and East London clinics or online via bespoke video consultations, we address the cause rather than just the symptoms of injury or dysfunction to reduce pain, decrease stiffness and increase mobility, and to help our clients become stronger, happier and injury-free.
Our physiotherapists are registered with all major Health Insurance Providers (including Bupa and Axa PPP). Find out more about Insurance Providers.
"I had issues with my neck for 10 years, but the Ten Physio explained the problem and how it could be fixed in a single session"
BRIGID MOSS – HEALTH DIRECTOR, RED MAGAZINE
What can we do for you?
We're here to help you #MoveBetter - by that we mean everything and anything that can impact on your body's quality of movement and function, whether that's to do with injury treatment and rehabilitation, muscle tightness, joint mobility, postural alignment (static and in motion) or performance enhancement. For us, posture is the start point of all movement, and we offer a range of physiotherapy services at Ten to help you return to natural, effective, functional movement and a healthy, happy, pain-free life.
Book an appointment
Specialist Physiotherapy at Ten
As one of the leading Physiotherapy clinics in London, we offer specialist private treatment across our London-based studios, including:
We specialise in
• Manual therapy
• Soft-tissue treatment
• Injury treatment and rehabilitation
• Specific exercise therapy
• Shockwave Therapy
Our expert physiotherapists' extensive knowledge of anatomy, physiology and biomechanics enables us to diagnose and treat not only your symptoms, but also the underlying causes of your problem. As a result, we can improve the speed and effectiveness of your recovery as well as helping prevent future re-occurrences.
Over 90% of the patients we treat do not require onward referral to a specialist or any kind of surgical intervention.
We work closely with an extensive network of the best Spinal Consultants, Neural Surgeons and Neural Specialists in London who we can refer to for confirmation of diagnosis, further investigation or intervention (whether as injections or surgery).
We regularly receive referrals from leading Consultants and Surgeons for pre and post-operative Physiotherapy, enabling us to prepare their patients better for their surgery and to help them recover faster and more fully from it.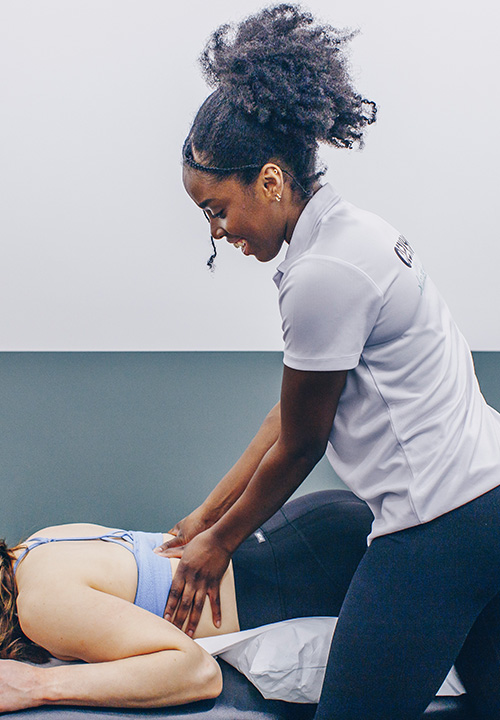 "TenPhysio feels like a kind of magic"
THE TIMES
Our approach to Physiotherapy
For us, it's all about restoring clients' freedom - whether freedom of movement or freedom from pain - to help them become stronger, happier and injury-free.
We are deeply committed to the care and wellbeing of our clients, through the relationships between Therapist and client, the excellence of our treatment, and our ability to deliver effective, lasting results.
Unlike many Physiotherapy practices, we combine assessment and diagnosis with hands-on treatment, using a combination of soft tissue massage, mobilisation, manipulation and exercise. And we focus on addressing the underlying cause of the injury or dysfunction, rather than simply treating the symptoms.
Unlike most Physio practices, we work collaboratively, rather than in isolation. As part of the Ten Health and Fitness team, our in-house Therapists work closely with Ten's Trainers and Rehab Specialists to increase both the quality and speed of the client's recovery and deliver an integrated and unique Circle of Care.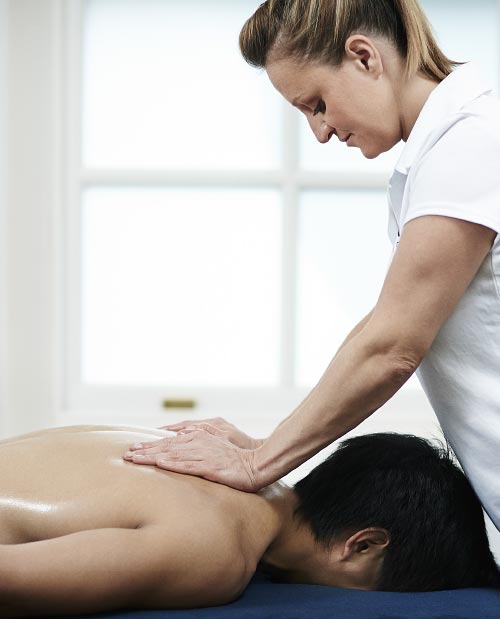 Physiotherapy assessment and diagnosis
We combine diagnosis, treatment and patient education. Our approach is based on the rigorous use of subjective and objective assessment techniques and clear communication of our findings and the resulting treatment and/or rehabilitation approach.
1. Subjective and Objective physio assessment

We'll ask you a number of specific and targeted questions about your symptoms – including how they present themselves, any movement restriction or stiffness, and your pain levels - to help us understand the likely cause, and identify any contributing factors.

This is followed by a process of objective physical testing and observation (often including slow motion video analysis) to help confirm a diagnosis. Tests are injury specific, and include an assessment of quality and range of movement, strength deficits, and reproduction of pain symptoms, amongst others.

2. Diagnosis

Following your assessment, your physiotherapist will explain the diagnosis - not just of your immediate issue and symptoms, but also of any underlying causes. He or she will discuss your injury management plan along with options for getting you mobile, pain free and back to normal as quickly as possible.

3. Biomechanical Assessment

Many instances of injury and/or pain are the result of biomechanical changes, either caused over time or as the result of increased or abnormal stresses on the body.

By analysing the structure, alignment and function of the joints and muscular systems in weight bearing and non-weight bearing situations, Biomechanical Assessment provides a clearer indication of the cause of any issue and enables a more targeted and effective programme of treatment.

Using iPads and specialist video applications, our Physiotherapists are able to provide slow motion movement analysis that will identify any faulty movement patterns, enable us to make the necessary alterations to technique, joint stability or muscle strength, and evaluate improvement over time.

4. Postural Assessment

The human body was designed to stand and move. Instead, most of us move too little, and sit too much, too often and badly.

Factor in the debilitating effects of technology on our posture (from cars to laptops and smartphones) and it's no surprise that posture-related issues affect over 80% of all adults – usually in the form of back and neck pain.

A client's standing or sitting posture is often a key factor in assessing the root cause of a problem.

Using a combination of manual therapy, stretching, foam rolling and strengthening, postural correction will often be an important part of a treatment programme. This not only helps take pressure of the injured area and corrects any dysfunction, but also prevents future flare-ups.

5. Ergonomic Assessment

Poorly set-up workstations can lead to painful and debilitating posture-related injuries and conditions. Simple corrections to the height and angle of your desk, chair and keyboard can massively reduce the risk and amount of stress on muscles and joints.

As part of your physiotherapy assessment, we can review your workstation, and suggest changes – along with simple stretches and exercises - that will enable any existing injuries or issues to settle, and help minimise the risk and severity of future injury.

6. McKenzie method

Developed in New Zealand in the 1960's, the McKenzie approach to Physiotherapy is a highly regarded and scientifically established programme for the diagnosis, assessment, treatment and prevention of spinal conditions, and the management of neck and back pain.

It follows a very strict and safe progression of tests, focusing on the quality and range of movement of a joint or area, and any resulting pain response, to enable the therapist to create a precise, structured and highly effective treatment plan.
How we treat you
Hands-on Treatment

If you're suffering with muscular or joint pain, loss of range of motion or stiffness or even muscle spasm, more often than not, it's one of the joints that is not moving properly. Our hands-on physio treatment will help to get you moving again.

Manual therapy

Manual therapy

With a number of manual therapy and joint mobilisation techniques at our disposal, our Physiotherapists can improve quality and range of movement, reduce pressure on the nerve, decrease pain, promote recovery and enable patients to return faster to activity (or to a strengthening programme).

All manual therapy techniques are preformed following a thorough assessment, and while some post-treatment soreness is usual, you can expect to be able move more freely though the affected area afterwards.

Soft tissue treatment

Soft tissue treatment

A combination of massage and trigger point release to reduce pain and promote healing. The technique focuses on a specific area of muscle, ligament or tendon to lengthen, desensitise or numb the tissue.

Mobilisation

Mobilisation

The application of specific force or pressure onto stiff joints or tissue to allow a greater range of movement.

Dry needling

Dry needling

Dry needling is a minimally invasive treatment technique similar to acupuncture, which uses small filament acupuncture needles to release tight, dysfunctional or injured muscles.

Dry needling helps to deactivate and desensitise painful trigger points by stimulating a healing response in the treated tissue, releasing the trigger point and reducing the biomechanical stress at that muscle group; allowing for more effective treatment.

Evidence-based research indicates that dry needling improves pain control, reduces muscle tension, normalises biochemical and electrical dysfunction of motor end plates, and facilitates an accelerated return to active rehabilitation. It's also a recommended treatment option for people suffering with chronic low back pain.

Acupuncture

Acupuncture

The oldest documented form of medicine known to man, there are two generally held views on how Acupuncture works.

The traditional Chinese view is that it helps free blockages in the flow of Qi energy around the body. The western view is that it works by stimulating the body's own painkillers such as endorphins and enkephalins, and that although initial pain relief may only be short term, repeat treatments can bring long term benefits.

Even though there is no overall agreement on how, or why it works, it has been shown to be an effective method not only of relieving symptoms but also of dealing with a problem at its root cause.

At Ten, Acupuncture can be administered either as a treatment in its own right, or as part of an overall programme of therapy.
Injury & Exercise rehabilitation

Ten was built on the need for better injury and exercise rehabilitation, after our founder Joanne was recovering from back and pelvic injuries after a car crash in 2006. Effective rehabilitation, with the support of Ten's full network of specialists, is at the very heart of what we do.

Sports injury management

Sports injury management

Sports injuries are split into two categories – traumatic and non- traumatic.

Traumatic injuries are usually the result of impact or accident (sprains and dislocation for example). Non-traumatic injuries are generally caused by overuse or underpreparation – i.e. the body has not adapted for the stresses and demands of a particular sport or activity.

Our Physiotherapists are experienced at dealing with both types of injury, and are up-to-date with the latest sports injury research and rehab programmes.

All have personal sports interests and experience, and most have specific and extensive experience working with elite athletes. As a result they understand the pressures and frequency of training, and the need to create rehabilitation programmes that are both fast and effective.

As most of Ten's Physios have been active sportsmen and women themselves - several performing or competing at elite level - many also have first hand experience of a wide range of injuries.

Stretching

Stretching

Stretching can be very important tool to increase flexibility, reduce pain and take pressure off joints or injuries. For optimal results, stretching should be specific and targeted, done at the right time of day and held for the correct duration.

Your Physiotherapist will teach you which stretches are best for your problem and how much you need to do.

Foam rolling

Foam rolling

The foam roller is something everyone should own if they sit at a desk for several hours a day, use a phone or laptop, exercise, suffer from sore or tight muscles, have less than perfect posture – or, in short, live in the 21st Century.

It's also an excellent tool that you can use between treatments to keep certain areas of your body loose and improve the rate and speed of recovery. By rolling specific body parts over the roller, you can massage muscles and fascia, relieve tight or sore muscles, reduce pain and help prevent future injuries

NB: Done properly, foam rolling will and should be painful - but not unbearable.

Strengthening

Strengthening

Most of the up-to-date research shows that almost all injuries require some form of strengthening, loading or stabilisation as part of the rehabilitation programme.

Depending on the nature of your injury, your Physiotherapist will create a specific and bespoke programme to help improve the speed and effectiveness of your treatment. They will ensure that you understand the exercises you need to do, can perform them with proper technique and form, and are clear how often, and how many reps of each you should do.

Most of these programmes can be repeated at home, either as basic body weight exercise, or using therabands and occasionally dumbells.

Exercise therapy and prescription

Exercise therapy and prescription

To help maximise the speed and effectiveness of your treatment, your Physiotherapist will provide you with 2 or 3 specific targeted home exercises.

They may include stretches/foam rolling to reduce the pressure on injured tissue or stabilisation/strengthening exercises to improve joint stability and help prevent recurrence of your injury.

At all our sites, we have dedicated rehabilitation areas and gyms where your Physiotherapist can go through your exercises or use the well equipped spaces to enhance your overall treatment or injury management programme.

Gym-based exercise

Gym-based exercise

At all our London Physiotherapy clinics, we have dedicated rehabilitation areas and gyms where you can work through your exercise rehabilitation, injury management or performance enhancement sessions. Your Physiotherapist will be present to coach you through the techniques, monitor your progress, and adapt specific exercises or sequences as your needs and capabilities change.

Biomechanical correction

Biomechanical correction

Much of the pain or dysfunction that results from repetition or overloading injuries (without trauma) is likely to have a biomechanical cause. Certain muscles will be too tight and conversely, the opposing muscles will be too weak, resulting in abnormal biomechanical patterns.

Your Physiotherapist will focus on correcting these imbalances - this could involve anything from gluteal strengthening to exercises designed to load the rotator cuff. Rather than simply treating the symptoms, this approach is paramount to addressing the root cause and preventing future recurrence.

Postural correction

Postural correction

Posture-related musculoskeletal issues are becoming ever more common - largely due to the prevalence and postural impact of computers, smartphones, laptops and tablets, and our increasingly sedentary 21st century working patterns and lifestyles.

If you have pain that occurs while you are seated or inactive, chances are your posture is a massive causative factor – whether due your neck protruding forwards, shoulders rolling forwards or a rounding through the thoracic and lumbar spines.

Our Physiotherapists can help you reset your neck and spine to a more natural posture, and show you some simple stretches and exercises to help you keep it there.

Pre / post natal

Pre / post natal

A woman's body goes through a number of significant physical and hormonal changes in preparation for childbirth and again during the months afterwards.

Many of these changes can result in pain, dysfunction and increased susceptibility to injury. However with proper management and treatment, the adverse effects of these changes can either be prevented or successfully treated.

Our Physiotherapists are highly trained and experienced in dealing with pre and post natal issues, and can apply a number of techniques and treatment options to help manage any existing problems or help prevent any future occurrences - often involving postural correction, stretching, soft tissue treatment and specific strengthening exercises.

Circle of care

Circle of care

Unlike the traditional Physiotherapy model where therapists work in isolation, Ten's Physios work collaboratively with our Sports Massage, Rehabilitation and Training teams.

By sharing expertise, insights and client history, we are able to provide clients with a seamless progression from treatment and rehabilitation through to full recovery and functional fitness. And with all the disciplines under the same roof, we're able to continually monitor and adapt your programme to maximise its effectiveness and help you help achieve your goals faster.
Pre and post-surgery rehabilitation

Our Physios are all experienced in the management of orthopaedic conditions. We can work with you through a structured programme to help you prepare for and/or recover from your surgery, maintaining close contact with your surgeon throughout.

Injections

Injections

Cortisone, epidural, nerve root block or facet block injections into the spine and joints are often administered to reduce pain, inflammation and any pressure on the joint or nerves,

Counterintuitive as it may seem, they are considered to be surgical procedures, as many require either general or local anaesthetic.

These injections provide a relatively short (around six weeks) window of opportunity. During this time, the reduction in pain and inflammation enables your Physiotherapist to improve the range of motion around the affected joint, strengthen the supporting muscles, progress a specific rehabilitation programme and address the underlying cause.

Less intrusive than conventional surgery, injections are often very successful treatment options. (For maximum benefit, you should see your Physiotherapist within 5-7 days.)

Injections into the hip joint are often used more as a diagnostic tool more than a curative treatment, however if they are successful in reducing pain, they also create a similar six week timescale in which your Physiotherapist can work on increasing mobility and addressing the underlying cause.

Injections are not common in the knee joint as they are thought to advance osteoarthritis.

Lumbar spine surgery

Lumbar spine surgery

Some of the more common conditions that may require spinal surgery (micro discectomy, laminotomy/foraminotomy, or laminectomy) include:

- Large disc protrusions/prolapses
- Referred pain, pins and needles, weakness and numbness
- Sciatica
- Spinal stenosis
- Inflammation or pressure on the nerve
- Fractures

The better prepared your body is for spinal surgery, the more successful the outcome is likely to be. To that end, we will work with you to create a pre-operative treatment plan that will improve the range of motion and stability of your spine, muscles and nerves.

Post-surgical treatment plans are designed to be safe, gentle and progressive, targeting range of motion, neural mobility, core stability and progressive functional retraining.

Once you have regained basic stability we would generally advise Pilates, Gym Based Physio and Physio-Led Clinical Pilates for further rehabilitation and progression.

We maintain constant correspondence with your Specialist throughout the process.

Cervical spine surgery

Cervical spine surgery

Some of the more common conditions that may require spinal surgery (including micro discectomy, disc replacement or fusion) include:

- Large disc bulges
- Chronic pain
- Referred pain, pins and needles, weakness and numbness
- Spinal canal stenosis
- Degeneration
- Instability

If you are having surgery, it is important that you prepare yourself for it with a proper pre-operative programme. (The more understanding, movement, strength and neural mobility you have going into surgery, the better the outcome is likely to be and the faster you will recover from its effects.)

We would always recommend a post-surgical Physiotherapy programme to restore range of motion, maintain neural mobility, improve posture, and for upper back/deep neck flexor strengthening.

We keep in constant correspondence with your Specialist throughout the process.

Shoulder surgery

Shoulder surgery

Some of the more common conditions that may require shoulder surgery include:

- Chronic impingement (bursitis, calcification)
- Rotator cuff tears
- Instability, typically following dislocation
- ACJ dislocations
- Labral tears (cartilage)
- Chronic capsulitis (frozen shoulder)
- Osteoarthritis
- Complex fractures

The more movement and strength you have going into surgery, the better you will be coming out. Our Physiotherapists can create a pre and post-operative treatment plan to improve the success and recovery time of your surgical procedure, including shoulder replacements, sub-acromial decompression, rotator cuff repair, ACJ debridement, shoulder stabilization (with or without labral repair) and manipulation under anesthetic (with or without hydrodilation).

The goal of Physiotherapy following surgery is firstly to restore range of motion, then regain specific scapula stability and shoulder strength (specific programmes will depend on the severity of your condition and the type of shoulder surgery that you have had).

We keep in constant correspondence with your Specialist throughout the process.

Hip Surgery

Hip Surgery

Some of the conditions that may require hip surgery include:

- Impingement
- Labral tears
- Osteoarthritis
- Fractures

If conservative management of your condition has failed, your Consultant may opt for surgery, which could include femoroacetabular impingement, humeral re-shaping, arthroscopic debridement, labral repair and total hip replacement

Our Physiotherapists can create a programme to help you prepare for your surgery, most commonly focusing on improving range of movement, and increasing the strength and stability of the supporting muscles.

Following surgery, your Physiotherapist will take you through a specific rehabilitation programme (depending on the procedure), focusing on restoring the joint's range of motion, increasing your weight-bearing tolerances, restoring gluteal strength and then functional retraining. It is likely that post op, your programme will largely be exercise and gym based.

We keep in constant correspondence with your Specialist throughout the process.

Knee Surgery

Knee Surgery

Some of the more common reasons for orthopaedic referral and potential knee surgery are the result of an acute trauma that limits stability or range of movement of the joint. Conditions include:

- Meniscal tears
- Ligament ruptures (ACL, MCL)
- Chondral injuries
- Fractures

If conservative management of your injury has failed, surgical options include ligament reconstructions (ACL/MCL), meniscal repairs, arthroscopic debridement, tendon scraping or total/partial knee joint replacement.

To improve the effectiveness and recovery time of your surgery, our Physiotherapists will create a specific pre-operative Physiotherapy programme, focusing on range of movement through the joint and strength of the supporting muscles (particularly the quads).

Following surgery, your post-operative Physiotherapy programme will be about regaining range of motion (extension before flexion), restoring the inner range of the quads and VMO, progressive improvement of weight-bearing and walking, functional retraining and then depending on the patient, high end sports specific plyometrics and sports specific retraining.

We keep in constant correspondence with your Specialist throughout the process.

Foot & Ankle surgery

Foot & Ankle surgery

Some of the conditions that may require foot or ankle surgery include:

- Ligament ruptures
- Chronic bunions and/or hammer toes
- Complex fractures
- Chronic Achilles tendonopathy

If more conservative treatment options have failed, surgical options include ligament reconstructions, tendon scraping, bunion or hammer toe corrections, fusion and open reduction and/or internal fixation of displaced fractures

If you do require surgery, it is important that you have a pre-operative Physiotherapy programme in place, as the more movement, strength and proprioception that you have before the procedure, the better and faster your progress will be afterwards.

Depending on the nature of your treatment, the goal of post-operative Physiotherapy is to restore weight-bearing tolerances, get you off crutches, reduce swelling, restore range of motion and build proprioception and strength.

We keep in constant correspondence with your Specialist throughout the process.
Book an appointment
Private Health Insurance

Our physiotherapists are registered with all major Health Insurance Providers (including Bupa and Axa PPP). Please call your preferred studio to arrange a booking.
Insurance provider codes
Insurance provider codes
BUPA:
80010618 - City
80010618 - Chiswick
80010618 - Fitzrovia
80010618 - Hatton Garden
80010618 - Little Venice
80010618 - Nine Elms
80010618 - Notting Hill
80010618 - Notting Hill Gate
80010618 - St James's
80010618 - Tottenham Court Rd

AXA-PPP:
ZZ03038 - City
ZZ02607 - Chiswick
ZZ04269 - Fitzrovia
ZZ02888 - Hatton Garden
ZZ01679 - Little Venice
ZZ04861 - Nine Elms
ZZ02049 - Notting Hill
ZZ04714 - Notting Hill Gate
ZZ02429 - St James's
ZZ04486 - Tottenham Court Rd

Our team
Our Physios are some of the best Physiotherapists London has to offer. All of our Physio are State Registered, have postgraduate qualifications and are members of the Chartered Society of Physiotherapy. Both expert and highly qualified, they offer a warm, genuinely caring attitude and positive approach to your treatment, on top of their tried and tested expertise.
Find a Physio
Successfully treating a lumbar spine fracture

"I can't thank the team at TenPhysio enough. I would not be competing again if it weren't for them."

HOLLIE COPE-JONES – COMPETITIVE SHOW-JUMPER

Read Case Study
Articles
Running Mechanics and the importance of foot strike location, stride length, body positioning and the effects of footwear on your running gait.

Prehab is way too important to be the exclusive preserve of elite athletes and boutique providers.
Read more Physiotherapy Articles