(St James's and City Studios only)
---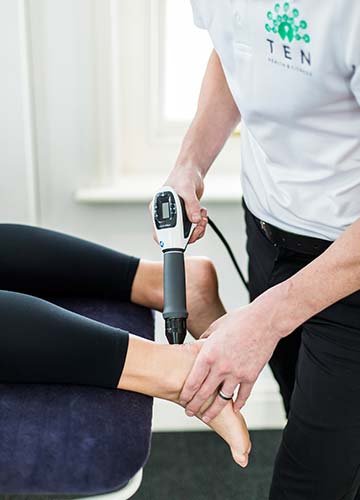 What is Shockwave therapy?
Shockwave – or Extracorporeal Shockwave Therapy (ESWT) to give it the full name – is a sound energy treatment that helps ease muscle and joint pain and provides faster and more effective healing from injury.
Shockwave is a safe and non-invasive treatment with no need for anaesthetic.
It can also be an alternative to surgical intervention, particularly for issues such as calcific tendonopathy - a relatively common condition caused by the build up of calcium deposits within the tendons.
Traditionally reserved for elite and professional sportsmen and women, Shockwave has typically been delivered by Orthopaedic Surgeons and Sports Physicians. However it is increasingly being offered by leading Physiotherapy practices as part of an overall treatment programme to reduce pain and discomfort, and improve both the speed and the extent of recovery.
Call Studio
Make Enquiry
What conditions does Shockwave treat?
Shockwave is most well known for the management of tendon complaints. However, it has also been proven to be highly effective for treating muscle tightness, injuries and pain, whether acute (i.e. resulting from injury or trauma) or the result of an on-going chronic condition. In many cases, there is an immediate reduction in pain following the session.
The conditions that respond best to Shockwave therapy include:
Achilles tendonopathy (inflammation, swelling or pain in the Achilles tendon)
Plantar fasciitis (pain on the arch of the foot, especially under the heel)
Patellar tendonopathy (inflammation, swelling or pain in the tendon that joins the bottom of the kneecap to the shin bone – otherwise known as Jumper's knee)
Lateral or Medial epicondylitis (Tennis or Golfers elbow – lateral epicondylalgia)
Periarticular shoulder pain (Frozen shoulder)
Calcific tendonopathy (pain and movement restrictions resulting from the build-up of calcium deposits within the tendons)
Gluteus medius tendonopathy (pain in the side of the hip or the buttock – also known as trochanteric bursitis)
Hamstring tendonopathy (hamstring pain, where the hamstring meets the buttock)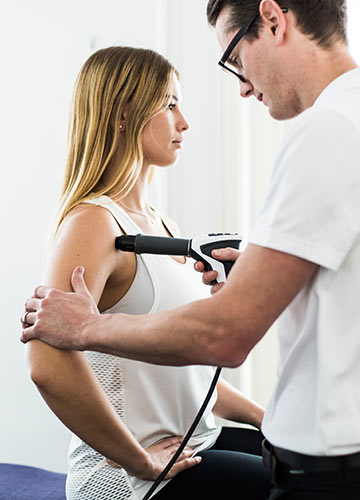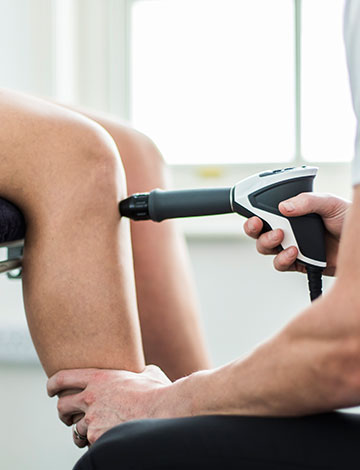 Clinically proven results
There is a significant body of clinical and medical evidence supporting the benefits of Shockwave therapy. It now regarded as clinically proven, and is recognised and used by the NHS, top orthopaedic hospitals and by many high profile professional sports bodies.
The medically recognised benefits of Shockwave include:
Decreasing pain in areas of injury
Stimulating healing, tissue repair and cell growth (especially where the healing process has been partial, slow or ineffective)
Reversal of chronic inflammation
Formation of new blood vessels – improving the blood supply to injured tendons speeds and improves the healing process
Stimulation of collagen production – necessary to strengthen damaged tendon tissue
Dissolving the calcium deposits that can build up on tendons, causing pain and restricting movement
Call Studio
Make Enquiry
What to expect from a Shockwave treatment
Shockwave therapy is not a standalone treatment. It is most usually delivered as part of a Physiotherapy session.
Shockwave sessions are relatively short – typically 15 minutes Some discomfort or a tolerable level of pain may be felt during the sessions, but where necessary, the Therapist can adjust the force, intensity and depth of the treatment to a more tolerable level. Any pain will generally diminish during the session.
Clients often feel immediate pain relief due to the Shockwave's analgesic effect, but it's not unusual to feel some low-level diffuse pain a few hours after the session. (If necessary, take non-prescription painkillers such as Paracetamol, but try to avoid anti-inflammatory medications as these could interfere with the body's healing process.)
Typically you can expect to be in less pain and moving better within 24 hours.
Our Shockwave machines
The Shockwave devices used at Ten are radial Shockwave machines, developed by Stortz, the leading manufacturer in Shockwave technology.
They are approved medical devices, CE certified. (A CE marking affirms that a product complies with EU legislation against a number of criteria, including health, safety and quality.)
Although they are amongst the most expensive products on the market, we believe that Stortz machines are more effective than other cheaper alternatives, and the results more than justify the price tag.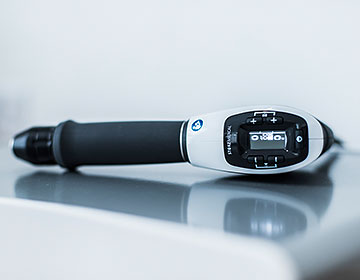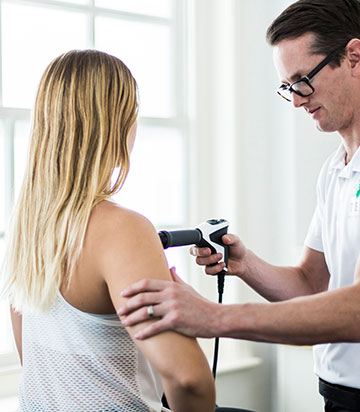 Prices
Shockwave treatment is covered by Private Health Insurance (we are registered with all major insurance companies for the application of Shockwave).
Please check with you company prior to starting treatment as you will need specific authorisation (separate to any Physiotherapy approval).
You can also pay for Shockwave therapy yourself; we offer single sessions as well as packages. Prices start from £55.
Shockwave therapy is not available to book online. Please contact your preffered Studio to book.
---
---
Shockwave FAQ's
– How does Shockwave work?

Shockwave therapy delivers targeted acoustic pulses – high-energy sound waves to the affected area – via a handheld device.

– Does Shockwave hurt?

It should not be painful. There may be some discomfort, but this should always be at a level that you can tolerate. If not, ask your therapist to reduce the intensity to a level that you are comfortable with.

– Can I get Shockwave on my health insurance?

Yes. However you should check with your Insurance company prior to starting treatment as you will need specific authorisation for Shockwave (separate to any Physiotherapy approval).

– How long does a Shockwave session take?

Usually about 15 minutes. This will usually be delivered as part of a Physiotherapy session.

– How many Shockwave sessions will I need?

3-6 sessions is normal. However, the number will vary depending on the severity of the issue or condition, and the body's response to it.

– Are there any side effects?

You may feel some discomfort during treatment, which will be kept at a tolerable level. Some tingling and aching are sometimes felt either during or after treatment. There may also be some minor bruising or chafing after treatment.

– When/where not to have Shockwave treatment

If any of the following apply to you then please notify your clinician prior to any treatment.
– you are pregnant or trying to conceive (if so, Shockwave treatment will not be performed over the abdominal and pelvic areas).
– you take anticoagulants such as Warfarin
– you are under 18 years of age
– Cardiac pacemaker fitted
– nerve or circulation disorders
– infections
– damaged lung tissue (treatment will not be performed over the lungs)
– malignant tumour