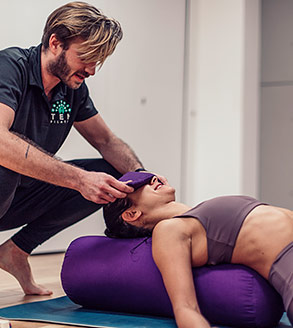 What is Restorative Yoga?
Originally developed by B.K.S. Iyengar in Pune, India to allow the sick or injured to engage in a yoga practice without any stress or strain it was later popularised in the West by Judith Lasater.
It is the perfect antidote to the high octane, always-on, non-stop nature of modern city life. The more we push ourselves to keep up with the demands of 21st Century living, the more likely we are to burn out.
View classes
Why Come?
In a chronically stressed state, quality of life is compromised and at worst can lead to illness or injury, including high blood pressure, ulcers, back pain, immune dysfunction and depression.
Restorative Yoga at Ten offers a chance for the body and mind to take some well needed time out to recover and repair by relaxing in a series of fully supported postures. Classes are very slow paced and can use multiple props such as blocks, straps, bolsters or blankets to help you find a place of comfort to allow to hold the poses for a longer period of time.
Is it right for me?
Yes! Anyone can attend. You do not need to have any prior yoga experience. Classes will be limited in size and each posture will be individually adapted.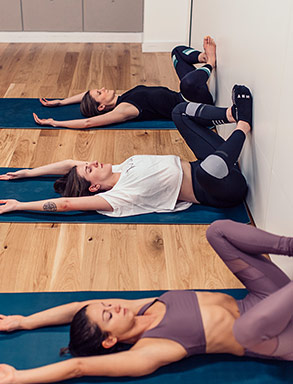 What can I expect?
Restorative poses cultivate the habit of attention. The mind should always focus on the breath. When you notice your mind wandering bring it back to the breath. You can also focus on where and how you hold tension. Then use the breath as a tool to release the tension. Breathe to the area of tension and on the exhale release.
Poses are held longer for a reason. In a dynamic practice it is possible to force the body into a pose it may not be ready for. Traditionally, a person would have practiced restorative yoga postures for years before moving to a more active practice. In restorative yoga the speed and depth of stretch is determined by the body and not the mind.
View classes