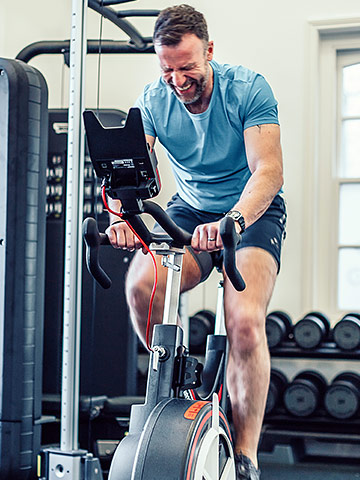 Why Come?
Regardless of whether you've just entered your first 5km run or you're about to complete your 10th Iron Man, you'll want to make sure that you reach the start line not only in the best physical condition possible, but also injury and niggle free.
We're ideally placed to help.
Personal Training at Ten has nothing to do with the quick-fix, before-and-after-photo approach that characterises so many PT gyms, and everything to do with the kind of progressive, structured and goal oriented programme that any athlete needs in order to train systematically and successfully towards a specific event or event season.
Is it right for me?
There is a lot to consider when preparing for an upcoming event.
If you're new (or new-ish) to endurance sports, it's about helping you prepare mentally as much as physically, helping you understand what to expect from the event itself as well as from the training that leads up to it, and supporting you through the almost inevitable motivation challenges, setbacks or niggles along the way.
If you're a more seasoned athlete, we can work towards more specific goals – for instance beating your previous PB or finishing in a 'good for age' time.
Whilst your programme - whatever your level - will be focused on hitting the goals and performance levels you need to meet, at the time you need to meet them, we take a holistic approach.
We'll start with an in-depth understanding of your current physical condition and capability. We'll work with you on movement, mobility, strength and conditioning, recovery, prehabilitation and nutrition as well as sport specific needs. And we'll make sure that the programme is realistic and achievable –based around your training availability and frequency.
What will it be like?
As with all our training approaches, we'll start with a full assessment to establish your current capacities. From there we will be able to programme the various phases of your training to ensure you hit the start line in peak condition.
During our training we'll be using our online coaching platform TrueCoach so you can stay on track with your training outside our one-to-one sessions.
All sessions will be geared towards the specifics of your event and the support you'll need to perform optimally on the day, and will ensure that no element is left behind.
And if you've been been unlucky enough to pick up an overuse injury or niggle during previous training or competition, though Ten's Circle of Care we can incorporate any physical therapy or treatment necessary to minimise any interruption or disruption to your training schedule.
Results & Benefits
We'll help you improve your strength and cavdiovascular capability, helping you recover faster after training, and move more efficiently both in training and during the event itself.
We'll help you #movebetter, correcting faulty movement patterns and giving you greater control of your movement. So you'll improve your body's stability and resilience under load, helping you generate more power, more efficiently, and reducing the risk and severity of niggles and injury.
Make Enquiry
Book Assessment