Available in-studio or online, from the comfort of your home. Ten's Vinyasa Flow Yoga is designed to balance mind and body through mindful movement, and is available as a Studio Class,
Live Stream Class
or as an
On Demand
workout.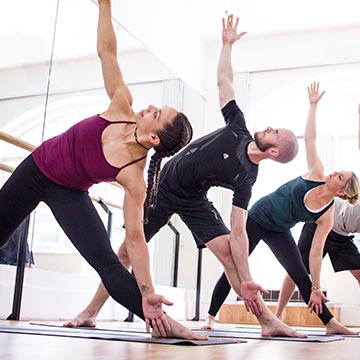 Why Come?
In line with the Ten approach to exercise, our Vinyasa Flow classes combine a dynamic sequence of poses (asana) with a strong focus on posture, form and correct muscle activation.
To keep classes fresh, the format allows for a plenty of variety from one session to another. Expect to move dynamically, fluidly and, sometimes vigorously, from pose to pose.
In line with our 'anti-desk' approach to postural correction and restorative movement, Ten's yoga teachers and physiotherapists have worked together to adapt or modify specific poses.
As a result, our Vinyasa Flow class structure is designed to address the more harmful postural impact of our sedentary and deskbound 21st century lifestyles. It will help restore balance, lengthen over-tight muscles, and help reset and re-educate the body into a more natural set of movement patterns.
Book Studio Class
Book Live Class
Is it right for me?
Ten's Vinyasa Flow is suitable for all levels, from novice to more experienced students, with options given for different levels of ability and experience.
For anyone new to Yoga the careful selection of poses and sequences makes this class makes a great introduction to the discipline. You'll benefit from clear clueing, and with smaller class sizes than you'll find elsewhere, plenty of individual attention and hands-on instruction.
Experienced Yogis will discover a class that improves their practice and understanding of Yoga through a focus on the anatomy and function that underpins different yoga postures and sequences.
The small class size of no more than 10 people and hands-on correction will enable to focus on the quality of your movement, improving flexibility and strength, and giving you the tools to avoid injury in your own teaching and practice.
What will it be like?
Ten's Vinyasa Flow classes deliver all the advantages of Yoga practice without the risks, but with all the benefits of mindful movement. You'll learn how to practice yoga in a way that avoids or adapts poses that compound the more harmful postural impact of our 21st century lifestyles.
You'll also explore how yoga breathing techniques (pranayama) can calm the mind, improve spinal health, and support movement.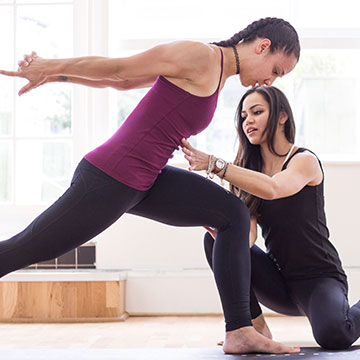 Results & Benefits
Expect to develop strength, mobility and flexibility in a safe and expert practice designed to prevent the muscular imbalances and hypermobility that can prevent progression or cause injury.
Yoga classes at Ten will also help you improve your yoga practice and break through any yoga pose plateaus through an enhanced awareness of the anatomical structures and principles underlying yoga, and how the spine, body and breath are interlinked.
You can also expect to balance mind and body through mindful movement in a therapeutic yoga practice designed to have you feeling, looking, and moving better.
Book Studio Class
Book Live Class