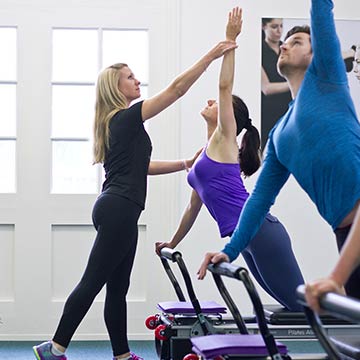 Why Come?
This is London's first Reformer-based stretch class. It's also one of the most effective stretch classes you could attend.
One of the most versatile pieces of exercise equipment available, the Pilates Reformer, is ideally suited for isolating and lengthening specific muscles, and enabling a deeper, more effective stretch than you could achieve unassisted.
In this class, your Trainer will guide you through a progression of stretches to improve all-round flexibility and mobility. Though you'll see whole-body benefits, we place specific focus on the problem areas and muscle groups most adversely affected by the muscular imbalances and postural challenges of our 21st century living.
Is it right for me?
No specific level of fitness or experience is required. So if you are learning to move again after an injury, lack flexibility around the major joints – knees, hips and shoulders – or are just looking for a safe, expert and intensely effective stretch class, this is the class for you.
And if you're new to the Reformer, don't worry; we'll give you a proper introduction to it on your first visit.
View stretch classes
What will it be like?
The focus here is on practicing full, safe, normal movement to improve and increase your range of motion around many of the joints of the body. Expect steady and controlled positions and movements, carefully aligning the body to produce isolated stretches to specific muscles.
Less intense than our standard Reformer classes, you will explore how it feels to stretch, allowing the body to absorb the feeling of being freer, and improving your flexibility and ultimately your posture as a result.
If you're new to Ten or the Reformer, wear clothes that allow you to move easily. You won't need shoes – but you will need to wear gripsocks (if you don't have any, don't worry – they're available to buy at Reception). We provide water and towels.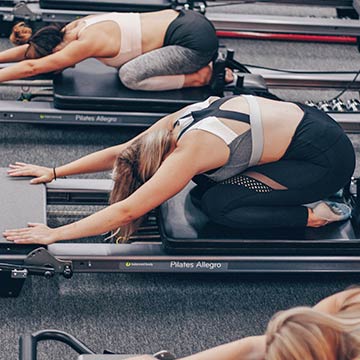 Results & Benefits
You'll feel looser and enjoy a greater range of movement through the shoulders, hips and spine. It's also a great way to free yourself from the stresses – physical and emotional – that build up through the day.
Our expert Trainers are highly experienced at helping clients with a range of injuries and issues – from lifestyle-related postural issues to sports impact injuries. At TenStretch, your Trainer will help you work safely around any limitations you may have to promote better and pain-free movement.
View stretch classes