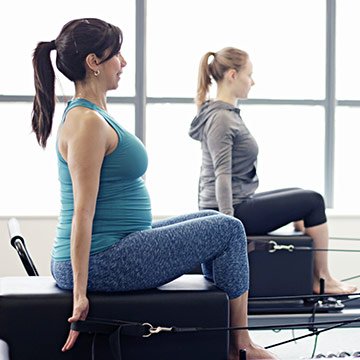 Why Come?
Pregnancy is a time of significant change for the body. With a focus on core stability, strength and overall fitness, our PreNatal classes are an excellent way to help your body cope with the changes you're undergoing and prepare it for the stresses to come.
However if you prefer to continue attending standard classes, you can do so as long as you follow our guidelines below.
Is it right for me?
Mothers-to-be who regularly exercise their core muscles can expect to experience shorter labours and reduced lower back and pelvic pain. Only exercises that are completely safe for mother and baby will be performed.
Please note if you're in your 3rd trimester and have not attended classes during the earlier stages of your pregnancy, it's not safe to start now.
What will it be like?
Varied, and less intense than our standard classes. PreNatal classes are structured around the changing requirements of a developing pregnancy to provide an effective workout from the first trimester through to full term, all the while staying completely safe for mother and baby.
Please note that, as with all our Reformer-based classes, you will need to wear gripsocks for this class. (If you don't have any, they are available to buy at Reception.)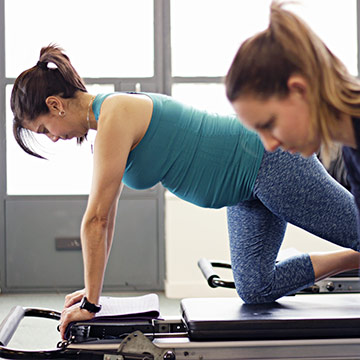 Results & Benefits
By retraining your muscles to activate properly, you will be able to cope more easily with the rigours of labour and childbirth, and the demands of the months to follow.
The classes will also help boost your immune system and circulation, and provide the energy levels needed to enjoy your pregnancy more fully and prepare better for labour.
What's more, attending classes throughout pregnancy will help you get back in shape faster after childbirth.
Book Prenatal Assessment
View Studio Classes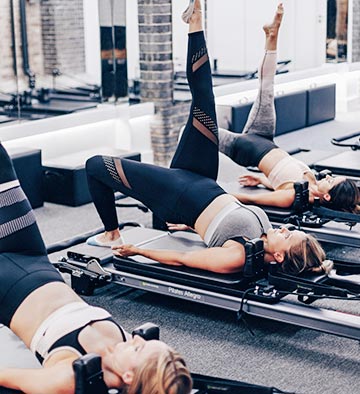 Post Natal clients
If you're looking to return to exercise, we're here to help you.
Our classes offer a safe and effective way to recover from pregnancy and childbirth – helping you regain your abdominal strength, realign imbalanced posture and reduce scar tissue.
The classes also provide both mental and physical benefits that allow new mums to cope better with the demands of motherhood. Not only do they help your body adapt to the postural demands of caring for a newborn, they also help to manage stress at a time of significant change.
When you're ready, we'd love to see you in the Studio. You can begin exercising with us again (Beginners classes only initially) once your Doctor has given you the go-ahead. Please note that we follow the official recommendation for recommencing Pilates; a minimum of 6 weeks for a natural birth and 8 – 12 weeks post caesarean.
– New Post Natal Clients

If you're new to Ten, and you're less than 6 months postnatal, we recommend booking a PT session (minimum of 30 minutes) before your first class back.
Book PT session
View Beginners Classes