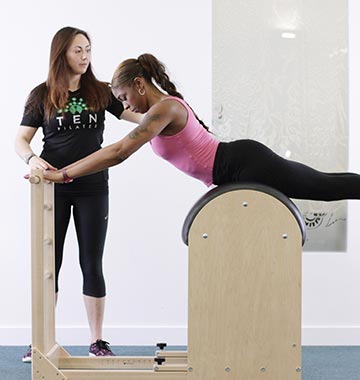 Why Come?
There are a number of reasons you'd choose a private or semi-private Pilates session.
If you're new to Pilates or haven't exercised in a while, these sessions give you the opportunity to work with one of our expert Trainers at your own pace and level to become familiar with the Pilates equipment and comfortable with the exercises and techniques.
If you're an experienced Pilates practitioner or are already attending classes, the one-to-one attention makes these sessions ideal for working on specific exercises, refining your form and technique or simply benefitting from the undivided attention of your Trainer to help you progress further, faster.
If you're recovering from injury or illness, or struggling with a persistent niggle, Pilates is highly effective for muscular and musculoskeletal rehabilitation.
VIEW APPOINTMENTS
Is it right for me?
Whatever your goal, equipment-based Pilates is an ideal base for creating a safe, controlled and highly effective full-body workout.
 Whether Reformer-based or incorporating the full suite of Pilates equipment - also including the Cadillac, Tower, Ladder Barrel, and Wundachair - you'll be using some of the most versatile pieces of exercise equipment to be found anywhere. Particularly when combined with a bespoke programme and the individual attention of one of the most knowledgeable, experienced and expert Trainers in London.
If you opt for 2-1 sessions, you won't need to find another person to train with you. We can do that for you. (In the event that we don't have another client wanting to share the session, you'll have it to yourself but at the 2-1 rate.)
What will it be like?
After an initial Pilates Screening your Instructor will create a focused programme tailored to your body.
Your sessions, whether 1-1 or 2-1, will be all about you, your needs and your goals. You'll work at the level and pace that's right for you, while the personal attention and bespoke programming means that you'll progress further and faster, and see and feel the benefits sooner than you would in a class.
Results & Benefits
Your sessions will be more personal, more effective, and more time-efficient.
Backed by the latest movement science and with a focus on precision and detail, through tailored, personal Pilates training you can expect immediate and lasting effects including:

Full body strengthening and sculpting

Improved flexibility and mobility

Strengthened joints and injury prevention

Improved balance, coordination and body awareness

Decreased back pain and speedier recovery from injury

Better posture and core strength
If you're recovering from illness or injury, your instructor will make sure that everything you're doing is helping you get back to functional fitness faster, rather than inadvertently aggravating the problem.
If you're looking to start or accelerate your Pilates experience, your Trainer will support, guide and (when necessary) challenge you to ensure you progress faster and see results sooner.
CONTACT STUDIO
VIEW APPOINTMENTS