---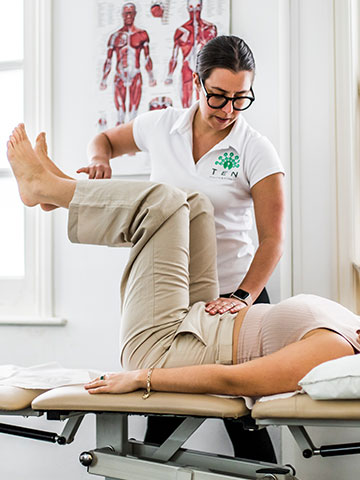 Women's Health Physiotherapy
Women's Health Physiotherapy is a specialised physiotherapy service aimed at treating the broad spectrum of physical changes and issues that occur throughout a woman's life, with particular focus on the pelvis and pelvic floor. This includes:
the management of hormonal changes
pre and postnatal rehabilitation
peri and post-menopausal care
pre and post-surgical rehabilitation
While the incidence of pain, dysfunction, and injury in these areas is all too frequent, many of these issues are preventable and/or treatable, given prompt intervention.
Unsurprisingly, The World Health Organisation recommends that all women should have access to Pelvic Health Physiotherapy. NHS England (NHS England 2022) have also recognised the failing in service provision and stated that physiotherapy is by far the most cost-effective intervention for preventing and treating incontinence and prolapse.
Make an enquiry
Initial Assessment
An initial appointment will involve both a subjective and objective assessment, carried out by a specialist Women's Heath Physiotherapist.
In the subjective assessment, we'll ask you a number of specific and targeted questions to help us better understand your symptoms, the underlying issue or condition and any contributing factors. (This may include personal questions around bladder/bowel function and full Pelvic Health screenings).
In the objective assessment, we'll look at the physical impact of your symptoms and we'll also assess your posture, movement patterns, and muscle and joint strength and stability, to give us further insights into the underlying cause.
If it is warranted and you consent to it, we may also carry out an internal pelvic floor assessment to assess the strength and control of the pelvic floor and the integrity of the tissues. (If an internal examination is required, we will offer you the option of a chaperone.)
Your Physio will then explain the diagnosis not just of the immediate issue and symptoms but also of the underlying cause. She will then discuss your treatment and rehab plan and help you understand what to expect as your programme progresses.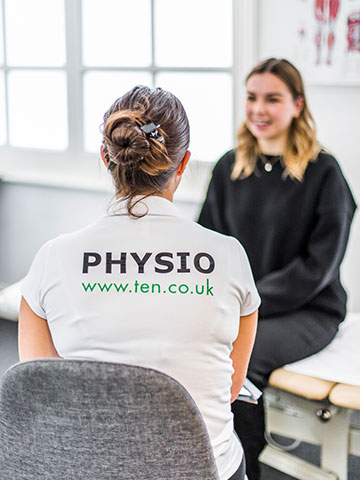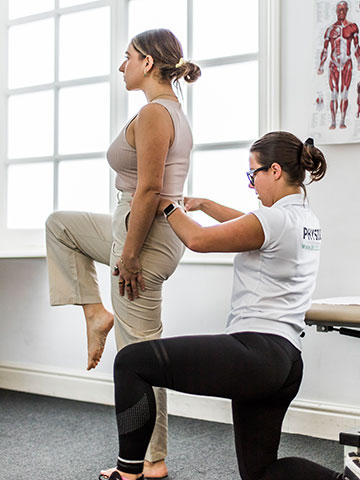 Ongoing Support
Ten's specialist Women's Health Physiotherapists provide treatment for a range of conditions, amongst them:
Bowel issues
Urinary and faecal incontinence
Pelvic floor issues
Endometriosis
Polycystic ovary syndrome
Pelvic pain
Menopausal incontinence and musculoskeletal issues
Prolapse
Post surgical rehabilitation
Pain with Sex
Vaginismus
If you have questions or would like to talk in confidence to one of our Women's Health Physiotherapists, please contact us.
Prices & insurance
Self-pay prices:
Initial assessment: £140 (60 mins)
Follow up appointments:
– Single follow up: £90 (30 mins)
– Double follow up: £140 (60 mins)

Self-pay sessions can be bought and booked online or by calling your preferred Studio
Book session
---
Insurance:
All our Women's Health Physiotherapists are registered with the Pelvic, Obstetrics and Gynaecological Physiotherapy (POGP) society, and with all major Health Insurance Providers, including AXA PPP and Bupa.
Many of our Pelvic Health services are covered by insurance – please call your preferred studio to check before booking.
Meet the team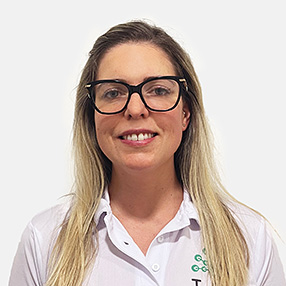 Leanne
Leanne has worked as a specialist Women's Health Physiotherapist in the NHS and in private practice. She has a varied and wide range of experience, including the treatment of chronic pelvic pain, vulvodynia and vaginismus, incontinence, menopause symptoms, and endometriosis. She is a member of the Pelvic, Obstetric and Gynaecological Physiotherapy Society and the Acupuncture Association of Chartered Physiotherapists.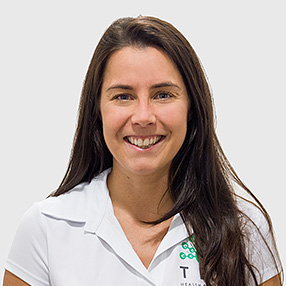 Kendall
A Physiotherapist for over 10 years, Kendall has undergone specialist training via the Pelvic, Obstetrics and Gynecological Physiotherapy (POGP) society, completing numerous courses focusing on pregnancy related physiotherapy, female urinary dysfunction, and menopause. She is a registered member of the Health and Care Professions Council and the Chartered Society of Physiotherapists.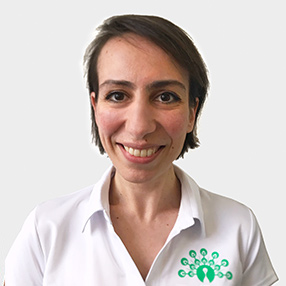 Evone
A graduate of ESTeSL in Lisbon, Portugal, Evone started her career in 2004 in the Portuguese Armed Forces Hospital. She has extensive Physiotherapy experience and has undergone specialist Women's Health training. She particularly enjoys working with pre and postnatal women, and women with complex pelvic conditions. Evone finds that many women still don't know that help is available, and is working tirelessly to resolve that! She is registered with Pelvic Obstetric and Gynaecological Physiotherapy, Health and Care Professions Council and Chartered Society of Physiotherapy.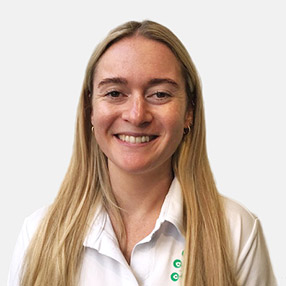 Olivia
Olivia is passionate about increasing awareness of Women's Health Physiotherapy to help women achieve small or big goals and ensure they reach their full potential. She enjoys treating pre and post-natal women as well as female athletes for musculoskeletal conditions and all women for pelvic floor related problems. Olivia is registered with Pelvic Obstetric and Gynaecological Physiotherapy, Health and Care Professions Council and Chartered Society of Physiotherapy.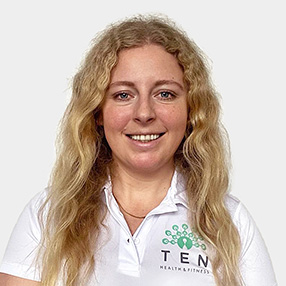 Sam
Sam has a BSc in physiotherapy and an MSc in sports and exercise physiotherapy from the University of Cape Town. She is a qualified pilates instructor and has worked with university and olympic rowers, rugby teams and hockey teams. Sam is passionate about returning women t sport and full function and has completed her Mummy MOT qualification. She is now expanding her knowledge to treat general pelvic health injuries as well as mens' pelvic health issues. Sam is registered with Pelvic Obstetric and Gynaecological Physiotherapy, Health and Care Professions Council and Chartered Society of Physiotherapy.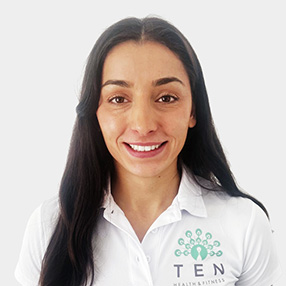 Louisa
Louisa has worked with a diverse range of Musculoskeletal (MSK) and Women's Health clients since graduating from her Masters at King's College London in 2018. She is also a qualified Personal Trainer and Pilates Instructor and previously completed an undergraduate degree in Sport and Exercise Science at the University of Leeds. Louisa's interest in Women's Health developed whilst working with clients who fell pregnant whilst under her care. She realised that this client group felt overwhelmed and under supported whilst navigating pregnancy and the post-natal period, and she wanted to be part of the movement to close this gap. She endeavours to bring her expertise in exercise and rehabilitation to the Women's Health world and help provide a better standard of care overall. Louisa is registered with Pelvic Obstetric and Gynaecological Physiotherapy, Health and Care Professions Council and Chartered Society of Physiotherapy.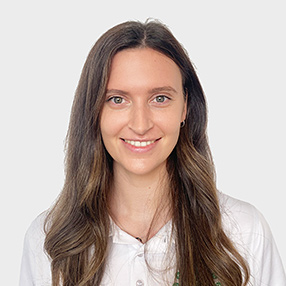 Toni
Toni has completed numerous courses to develop her skills in treating pelvic floor dysfunction. She specialises in the treatment of pre and postnatal issues, pelvic pain, incontinence, menopause, pelvic organ prolapse and men's health issues. Toni is passionate about empowering her clients through education to ensure they have the best understanding of their own injuries and self-management. She implements a combination of manual therapy, massage, dry needling and exercise prescription. This collaborative approach allows for a rehab program that can be suited to the lifestyle and goals of the client in order to achieve the best results possible.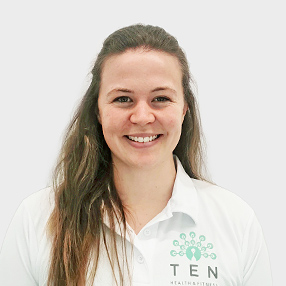 Caitlin
Throughout her career, Caitlin has developed a particular interest in Pelvic health and has completed specialised courses to be able to treat and assess pelvic health conditions. During this time, she also developed her own passion for reformer pilates, completing her training in 2022. She believes it's a valuable tool and incorporates it into patient rehabilitation. Caitlin uses a holistic and comprehensive approach, crafting individualised treatment plans that consider both immediate concerns and broader physical well-being.
---
Speak to a Pelvic Health Specialist
FAQs:
What is Women's Health Physiotherapy?

Women's Health Physiotherapy is designed to support women with a range of Pelvic Health conditions, as well as throughout the many physiological changes they will experience during their lifetime.

Up to 25% of women globally experience chronic pelvic pain. Around 50% of adult women experience urinary incontinence, but fewer than 60% of women will even talk to their health care providers about it.

Women's Health Physiotherapy aims to make healthcare for conditions such as this more accessible to women to help them attain the best health levels possible.

Do you offer private Physiotherapy?

Yes – we offer private Physiotherapy appointments, which can be self-paid or covered by your private medical insurer. As with any condition, we would recommend seeking pre-authorisation from your provider in advance of booking.

What happens in an internal Women's Health Physiotherapy pelvic floor assessment?

An internal examination is the best way to assess the strength of your pelvic floor and is recommended by national guidelines (National Institute for Clinical Excellence).

All of our assessments are carried out in private treatment rooms. The Physiotherapist will leave the room whilst you take off your trousers and underwear and lie on the treatment bed. You will be given a towel to cover your lower half. As part of the examination, the Physiotherapist will insert a lubricated gloved finger into your vagina to assess the strength of your pelvic floor muscles. You will be asked to perform a series of exercises to assess your muscle function. Throughout the examination your Physiotherapist will discuss what she is doing and make sure you're comfortable and happy to continue with the assessment. The assessment takes approximately 10 minutes to complete.

What should I wear to a Women's Health Physio appointment?

It's advisable to wear comfortable clothing that allows you to move freely. It is important that the Women's Health Physiotherapist can see the outline of your body and how it is moving, so sportswear such as leggings, shorts and sports tops are ideal.