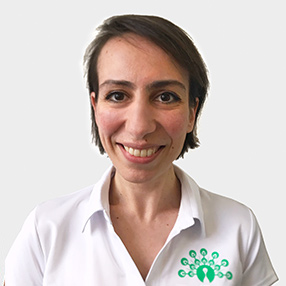 Qualifications:
HCPC
CSP
BSc Physiotherapy
Pilates Matwork level 1 and 2
Favourite things to treat:
Foot, ankle, knee and lower back injuries and postural imbalances; pre and post operative rehab hip, knee and spine.
A graduate of ESTeSL in Lisbon, Portugal, Evone started her career in 2004 in the Portuguese Armed Forces Hospital where she predominantly worked with MSK in patient and out patients as well as those with neurological and respiratory disorders having spent 2 years in the ITU.
In parallel, Evone also worked in private practice mostly with MSK patients and in hydrotherapy. In 2013 on completing her Pilates Certification, she worked in both clinical and gym settings using mat based pilates.
After a year as lead physio for SSCML (a private organisation set up solely to provide services for workers from Lisbon City Council), where work place injuries were the focus, Evone moved to London in 2015 where she continued to work in private practice with MSK patients and clinical Pilates.
It is important for Evone that her patients feel they are working as a team in setting objectives and achieve their goals with a mix of exercise – based Physiotherapy, manual therapy, Pilates and self-management advice.