About Ten Education
The professional training arm of Ten Health & Fitness, London's leading Pilates Studio, TenEducation offers courses to Pilates instructors, Physiotherapists, fitness, exercise and rehab professionals.
For rehabilitation, fitness and exercise professionals who understand the importance of quality of movement, a TenEducation qualification is a powerful addition to their repertoire of treatment and teaching tools.
Established in 2007, Ten has trained hundreds of health and fitness professionals to use the Pilates Reformer machine and help their clients and students to move better.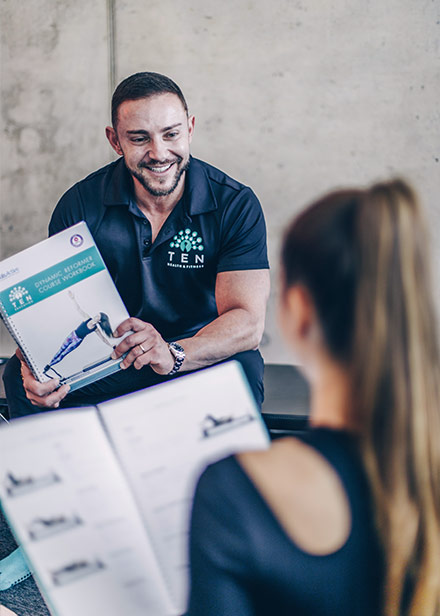 Training Courses & Workshops
Dynamic Reformer
(2-DAY COURSE)

2023: DEC, 2024: JAN, FEB/MAR, APR, JUN, AUG, OCT, DEC

VIEW COURSE + BOOK

Dynamic Reformer for Pre-Natal (2-DAY COURSE)

2024: FEB, MAR, MAY, JUL, SEP, NOV

VIEW COURSE + BOOK
Why learn with Ten?
"Ten Health & Fitness are miracle workers." – Daily Telegraph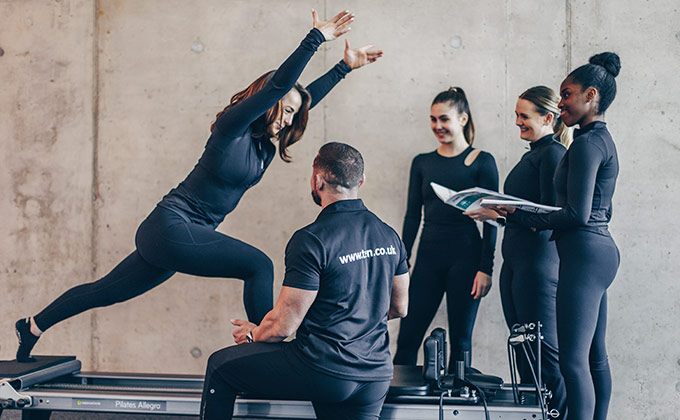 Get certified with the recognised Industry leaders:
Dynamic Reformer Pilates is at the heart of everything we do at Ten. We first introduced Londoners to Dynamic Reformer Pilates over a decade ago, and we've continued to pioneer its development since. With over 250 classes a weeks across our Studios, our industry-acclaimed approach has made us the largest and most popular Dynamic Reformer Pilates provider in Europe. You'll see our classes featured regularly in both the fitness industry and popular press and our name is synonymous with quality and results.
A proven, popular and practical approach to the Reformer:
You'll learn how to teach our innovative, highly regarded approach. Through our in-house and external academy we have taught hundreds of health and fitness professionals who have gone onto careers with both us and at fitness providers around the world.
Expert course teachers and course design:
All courses are taught by Ten Master Trainers and/or Tutors – some of the most respected, experienced and qualified Trainers in the industry and all with a wealth of practical experience with clients of all ages, levels and capabilities.
High quality resources to support your learning
As soon as you're registered for the course you'll have access to our online learning portal which includes access to all course material including:
Video and detailed explanations of exercises
Setups, teaching cues and watchouts
Exercise progressions and regressions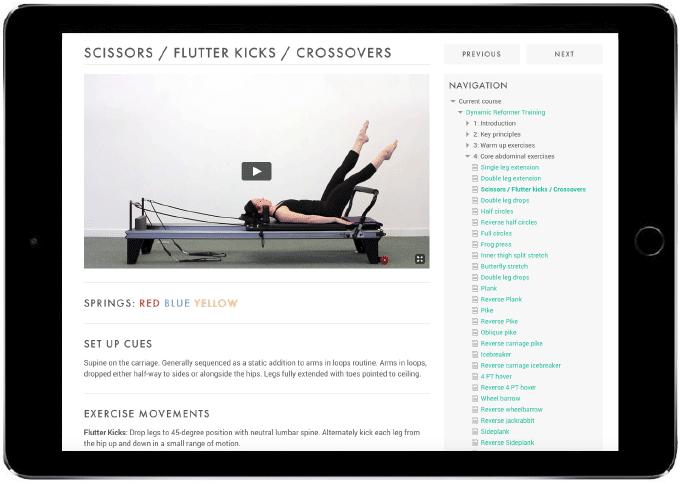 You will also be expected to attend classes as necessary, and to manage your own self study from the materials provided.
Payment plans and interest free loans available
For support with course fees, we offer payment plans and interest–free loans (subject to eligibility).
Contact us for more information.
Testimonials
"The Dynamic Reformer Pilates course has given me a whole new universe of knowledge and wealth of skills. The whole staff are very friendly and helpful and the course content was challenging and exciting. I'd recommend anyone looking into a reformer course to check this one out. You won't be disappointed."

Louise Ginsberg, October 2017 graduate

"Highly recommended! The teaching was outstanding and the content was incredibly interesting and challenging."

Dynamic Reformer Course Graduate, November 2016

"The Academy was one of the most rewarding 6 weeks I have ever done. Anyone who has the privilege of training in the Academy will have a great career as a Pilates instructor."

Tyson James, One Heart Pilates & PT, Brisbane

"Ten's Reformer Training course inspired me with new ideas and class plans that I have been using in my own studio. Joe and Neil were very professional and good at helping people from different backgrounds, dancers, PT's and Pilates trainers. The course was fast flowing with an active learning process to ensure you get the most out of the time. The online portal was an excellent tool with great videos.

I would highly recommend this course to other trainers who have no reformer experience as well as existing Pilates Reformer instructors"

Cath Drummond, Align Pilates, 2017 Graduate
Get in touch
Got a question about one of our courses or workshops? Leave your details below and one of our team will be in touch.