Corporate Health & Wellbeing
21st Century working life is bad for us - which means it's bad for your business. Luckily at Ten we have the antidote.
Our Approach
At Ten, it's not just about working hard. It's about moving better. Too many fitness providers focus on the frequency and intensity of exercise - the perfect recipe for injury and dysfunction, especially when an hour's full-on gym session follows a long sedentary deskbound day.
At Ten, we focus not just on intensity, but quality of movement. This approach is ideal for reversing the adverse effects of today's largely sedentary and posturally-challenged living and working patterns, relearning and reinforcing the patterns that enable us to move in the way our bodies were designed to – effectively, powerfully, freely and without risk of injury.
If your ability to move is already compromised, whether by pain, dysfunction or injury, our in-house Physiotherapy and Sports Massage team are on hand to treat the cause, and not just the symptom, of your issues.
We're here to provide a range of health and fitness-related solutions to help your staff stay fitter, healthier and injury free at work.

Why Ten? 10 good reasons
Why Ten? 10 good reasons
1. Energising, inclusive and welcoming. We welcome clients of all ages and abilities, from diehard fitness enthusisasts to those new to exercise or recovering from illness or injury. Ours is a personal, individual approach that delivers benefits in both physical performance and personal morale.
2. Flexible, easily managed corporate programmes and packages. We think people are busy enough at work as it is, so we make sure all our Corporate programmes are as clear, simple, flexible, manageable and, well, un-corporate as possible.
3. Breadth of experience. Over the past few years we've worked with organisations of all kinds and sizes, and at all levels. Everything from delivering information, education and ergonomic assessments to Workspace tenants to providing Goldman Sachs' staff with 30 hours of Dynamic Pilates and Personal Training sessions a week at their in-house fitness centre.
4. Prehabilitative. Our sessions focus not just on the intensity of effort but the quality on the underlying movement. By enabling staff to move better in the gym and in everyday life we are better placed to help address lifestyle-related muscular and postural imbalances and significantly reduce the risk of injury, pain and absenteeism.
5. Ideal for the way we live and work now. Our classes are designed to be highly effective and time efficient, making them ideal for the time poor and results-driven office worker. In addition to the physical benefits, the focused and absorbing nature of our workouts makes for a great time-out from the stresses of work.
6. Small class sizes. By limiting class sizes we're able to ensure that all participants get plenty of personal attention, hands–on correction and as a result, maximum benefit from their sessions.
7. Expert staff, expertly trained. We have some of the most experienced and expert Physiotherapists, Massage Therapists and Trainers to be found anywhere, with all our Pilates instructors having graduated from our industry-accredited in-house Training Academy – the first of its kind in London.
8. Circle of Care. Unlike the usual fitness industry model, our Trainers, Physios and Massage therapists work closely together, to create a seamless and integrated health and fitness approach for our clients
9. Registered with all major health insurance providers. Our Physiotherapists are registered with BUPA, AXA PPP, Pru health, Allianz, Aviva and Cigna amongst others.
10. Sites throughout London. We have Studios in Spitalfields, Hatton Garden, St James's, Nine Elms, Notting Hill, and Chiswick. All offering Fitness Classes, Personal Training, Physiotherapy and Sports Massage under the same roof.
Services We Offer
We offer a menu of employee benefits and wellbeing services for your staff. You can pick just one or two 'courses', or we can work with you to create a bespoke health and wellbeing package.
How we can work with you
We can create bespoke programmes that work for you in three ways:
Investing in Employee Wellbeing
We're not here to persuade you of the importance of Employee Wellbeing. If you're reading this you'll already know that – along with all the stats about the impact of musculoskeletal conditions and back pain on staff absenteeism in the UK. The problem with statistics is that they're not very human.
So instead we've asked Physiotherapy Director Cheyne Voss to use his years of experience treating busy deskbound London executives to describe what happens to your body through the course of a working day. (We challenge you not to jump up from your desk the second you finish reading it.)
Read Now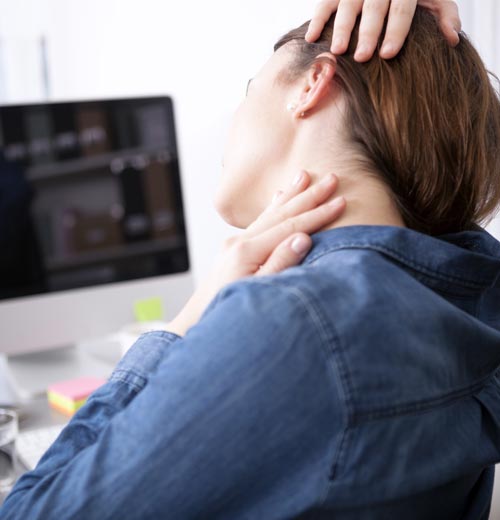 Our team
Head of Fitness

Consultant Physiotherapist
Meet the full team
Wellbeing at Work Articles
Dealing with pain and discomfort
Movement as Medicine