Why Come?
If you're new to Dynamic Pilates, and want to start faster and progress more quickly, if you have niggles or injuries to work around, or if you just want a more personal introduction to the Reformer and to the Ten techniques and exercises, then this is the session for you.
Is it right for me?
The sessions are suitable for pretty much everyone, whatever your experience or fitness level. It's a totally personal and individual introduction to the Reformer and to the Dynamic Pilates exercise and techniques, so you can work at the level, and progress at the speed that's right for you.
VIEW APPOINTMENTS
What will it be like?
It will be safe, personal, effective, and all about you. You'll benefit from your Trainer's undivided attention, so you can move quickly thorough techniques and exercises that come easily and spend more time on those that challenge you more. Your Trainer will support, guide and (when necessary) push you to ensure you progress faster and see results sooner.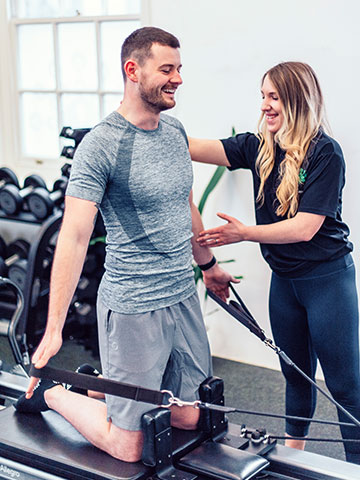 Results & Benefits
Your sessions will be more personal, more effective, and more time-efficient.
If you're recovering from illness or injury, the bespoke programme and the one-to-one attention will ensure that everything you're doing is helping you get back to functional fitness faster, rather than inadvertently aggravating the problem.
If you're looking for a faster and more personal start to your Dynamic Pilates experience, you'll be expertly guided in the use of the Reformer. You'll develop the correct techniques sooner, you'll see and feel results earlier, and you'll progress further, helping you feel more confident as and when you're ready to join the group classes.
CONTACT STUDIO
VIEW APPOINTMENTS