Job Title: Pilates Instructor
Job Type: Full time or Part Time
Schedule: 16hr, 24hr, 32hr or 40hr contracts
Salary: £20,000 – £23,000 per annum
Location: At any of Ten's Studios across London
Recruitment Day: Saturday 7th May
Apply now: If you are interested in finding out more, joining one of our recruitment days or attending the upcoming Academies please email recruitment@ten.co.uk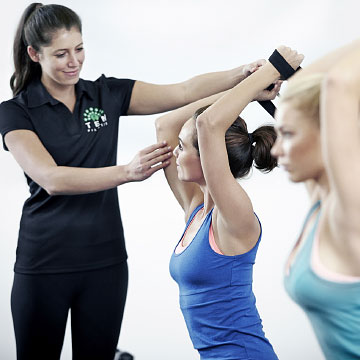 Job Description
Dynamic Reformer Pilates Trainer
We are looking for expert Pilates trainers, passionate about what they do, to lead classes in dynamic reformer Pilates. These classes will be held in all of our different fitness studios located across London. Though you'd be based in one Studio, you may need to travel to other Studios from time to time. Classes are typically quite small, consisting of 10 individuals and focus on improving the mobility and strength of our clients to better their quality of life.
Why Ten?
Six-time winners of the Tatler Gym Awards, Ten is a values-led business focused on helping people move, feel and look better through Pilates, Physiotherapy, Massage and specialist 1-1 training.
Over our 15 years in the industry, we have trained hundreds of people from a variety of backgrounds – dancers, S&C trainers, Pilates instructors, Physios, rehab and exercise prescription individuals – in our trademark Dynamic Reformer Pilates. Many of our Trainers have gone on to start their own studios or build careers across the world. We were the first Dynamic Reformer Company to have a fully accredited (CIMSPA) in-house Training Academy. We continue to innovate and enhance our knowledge through regular CPD training events and working cross functionally with our Physio & Clinical experts.
We are proud of our multidisciplinary teams, who have helped thousands of people #MoveBetter.
We are ambitious about Ten's future. As we grow, we want to continue to impact positively on people's lives, to help our people grow both personally and professionally, whilst continuing to build long standing relationships with our clients and our community.
We are looking for like-minded individuals to join our team. If you like what you hear, are expert at what you do, optimistic and energetic, curious and empathetic and people driven, we would love to hear from you.
Our Approach
Ten's Dynamic Reformer Pilates offers all the postural flexibility, toning and injury-prevention benefits of traditional Pilates. But it goes a step or three further. Along with our own refinements, we have added elements from other disciplines including circuits, weights and spin. The result is an intense and demanding full-body workout that sculpts figures, builds lean, toned muscle, fast and leaves clients buzzing with endorphins – in fact, it's a full body mind experience.
#MoveBetter is at the heart of everything we do.
---
Key Responsibilities
The Ten Trainer / Who you are
Whether you're passionate about leading small group classes or you love the impact you make through personal training – or both – we'd love to hear from you. Here's what we are looking for in a Ten Trainer;
Shared Values – You are expert, celebratory and people driven
Purpose – You genuinely want to make people feel good about themselves and through your teaching enable them to move better
Collaborative – You enjoy sharing your knowledge in class and out, with your clients and colleagues
Confident – Your confidence and energy shines through. You are comfortable taking command of the room and you make people feel comfortable around you.
Expert – You know what you are doing but remain curious to learn more. You understand movement and movement principles.
If you have the attributes, and qualifications, and are willing to share and learn more, please get in touch.
Prerequisites
An existing Pilates qualification helps but is not essential. Many of our best trainers have come from different backgrounds – Barre, PT, Free Movement, Dance, rehabilitation, clinical exercise prescription, FRC.
You have at least 1 years' experience in a professional fitness or clinical role, supported with a minimum of PT Level 3 REP's or CIMSPA or Pilates qualification, or sports science degree, Biokinetics degree or equivalent qualification.
Benefits
Besides a warm welcome and being part of London's leading and growing Dynamic Reformer Pilates team, we offer:
Competitive rates of pay
A continued Professional Development programme
Access to a multidisciplinary team
Free classes
50% off massage and physiotherapy
Employed full or part time or freelance

As an employed trainer you are paid during your training

Consistent schedules and consecutive blocks
Bonus scheme
Ride to work scheme
A career not a job
If you are interested in finding out more, joining one of our recruitment days, please email recruitment@ten.co.uk.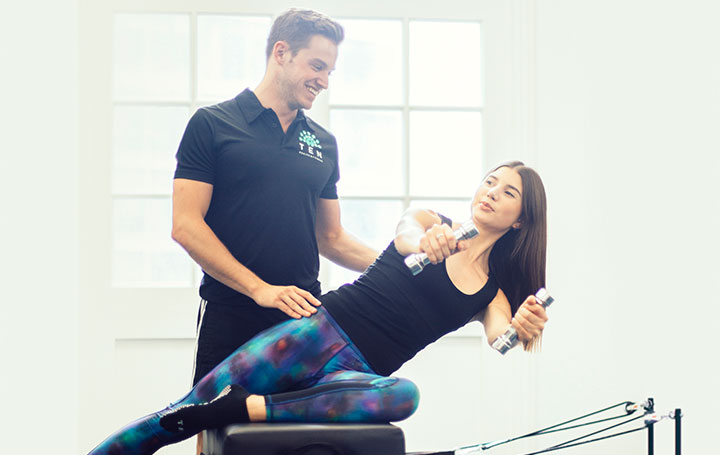 About Ten
Welcome to TEN
Ten is an award winning, VCT backed, values-led consumer lifestyle business.
The company was founded in 2007 as a result of the car crash that has become known as our 'happy accident' (though it definitely didn't feel like it at the time). The injuries she sustained in the accident prompted founder Joanne Mathews to go on and develop Ten as an authentic response to the challenges she faced managing her recovery and rehab.
With 10 Studios across London (soon to be more), our teams provide a holistic, end-to-end rehab, fitness and wellbeing service that's still missing in the fitness industry. In fact, what we've come to call our Circle of Care remains unique within the UK.
Ten's Physiotherapists, Exercise Physiologists, Pilates Instructors, Personal Trainers and Massage Therapists work collaboratively, under the same roof. Together we provide joined up, empowering solutions, to help meet our clients' needs and goals – whether that's to return from injury or illness to full fitness, offset the harmful effects of today's desk-bound working lifestyles or simply to enjoy the benefits of becoming fitter, stronger and improving their quality of movement.
We do this through small group and 1:1 sessions, keeping what we do very personal and bespoke. We are renowned for the expertise of our teams and the quality of the service we provide for our clients.
Whatever service a client uses at Ten, they will feel the authenticity of the relationships, the positive energy and the collaborative approach of the team.
We thrive on a culture of achievement. Our Studio teams deliver a warm welcome, and empowering, inspirational environment, and a great sense of community. This results in our clients and our teams staying and growing with us.
At our heart we are evidence-based, expert, people driven and celebratory. We exist to help people feel good about themselves – clients and staff alike – and to have a positive impact on their wellbeing and the wider community.
We are looking for the best talent to be part of our exciting growth plan.
We currently have opportunities across our 10 London studios. Have a look at our careers page to learn more about the different roles available at Ten, and which could be a suitable fit.
We are looking forward to meeting you.
Teacher Training | The TenAcademy Process
We have a series of Interview days coming up. It's an opportunity for you to experience a class and meet our team. Not everyone feels Ten is right for them and not everyone is right for Ten, so spending this time together, is a great way for you to get a sense of what Ten is like – and vice versa
Our Recruitment Day is Saturday 7th May.
If we invite you to join us, we will ask you to commit to our Academy training programme – either 2 or 8 days, depending on your qualifications. This is supported by online modules, and further face to face training. We cover the principle of our method for Dynamic Reformer Pilates, along with specifics such as pre and post-natal, advanced Pilates and jump board.
Before you teach on your own – and to qualify for your CIMSPA accreditation – we take you through 20 hours of team teaching.
It's intense, it's fun and you will learn a lot along the way.
Academy start date: 4th July 2022.
If you are interested in finding out more, joining one of our recruitment days or attending the upcoming Academies please email recruitment@ten.co.uk.