Start Date: Ongoing
Studio: Hatton Garden
Hours: 40 hours per week
Apply now: Please send your CV and a short covering letter to recruitment@ten.co.uk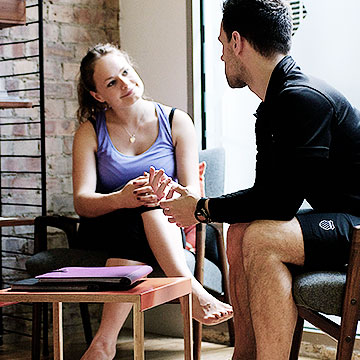 We're looking for a Senior Physiotherapy Manager to join our multidisciplinary team. This is a senior position for an MSK Physiotherapist who has experience running several clinics and managing Physio teams.
Ten Health & Fitness are one of London's leading Physiotherapy companies, offering a unique and integrated mix of Musculoskeletal/Sports Physiotherapy, Women's Health Physiotherapy, Dynamic Reformer Pilates, Clinical Exercise Prescription and Sports Massage Therapy.
We are renowned for the quality and expertise of our teams and the end-to-end health and fitness service and facilities that we provide for our clients. Our 10 London clinics are large, light and welcoming.
We have an extensive network of referrers through Consultant Orthopaedic Surgeons, Sports Doctors, as well as many large corporations around London.
What you'll do:
Oversee the smooth running of multiple clinics (i.e. each studio is achieving its KPIs)
Direct support for the Head of Physiotherapy, assisting with the recruitment process and providing any additional support
Examine medical reports/referrals and undertake comprehensive assessments of clients to determine the condition of muscles, nerves, or joints in need of treatment
Plan and implement therapy to improve condition and/or reduce pain and develop appropriate care plans
Offer specialist advice on how to avoid injury and promote the client's future health and well being
Evaluate clinical practise through reflection, audit, and outcome measures in order to continually improve the Physiotherapy service to clients
Build/maintain external contacts to drive turnover
Corporate outreach planning
Performance reporting/accountability to the Head of Physiotherapy
Management and development of Physio teams, conducting appraisals and return to work interviews
Implement and monitor the circle of care through referrals to Pilates classes, PTs and MTs
Review/audit team's records and caseload
Lead in team meetings
Manage CPD events and maintain an up-to-date and accurate portfolio of CPD
What you'll bring:
Undergraduate Physiotherapy degree
HCPC and CSP registered
Experience in lead role as a Physiotherapist Manager in London
An inspirational leader, who leads by example
Ability to mentor and education a team
Good networker, with a wide range of contacts throughout the industry and London Orthopaedic network
Established client base in London in treating private patients with musculoskeletal conditions
Excellent skills in assessment, diagnosis and treatment of musculoskeletal conditions
Expert, celebratory and people-driven
What could Ten Health & Fitness offer you?
A great salary + bonus package higher than industry standard
Ongoing comprehensive internal and external professional development to help you reach your career goals
Clear career development opportunities to become Lead Physiotherapist
Opportunity to train at our industry-leading Dynamic Reformer Pilates Academy, accredited by CIMSPA
Free Pilates classes and discounted retail & massage sessions
Additional annual leave per year of service
Visa sponsorship offered to non-UK citizens/residents
---
Please send your CV and a short covering letter to recruitment@ten.co.uk