The clocks have gone back, the days are shorter, the nights longer and summer already seems a long time ago. Ditto, those alfresco meals of grilled fish, barbecued chicken and fresh crunchy salads (and maybe just one glass of something cold and refreshing).
As I sit down to write this blog, it's dark, cold and wet outside and as far as tonight's dinner is concerned, a rocket salad most definitely does not cut the mustard.
I want something warm and wholesome. Comfort food for sure, but comforting doesn't necessarily have to mean unhealthy and unfriendly to the waistline. And there are some easy ways to reimagine some of our favourite dishes and offer alternatives which are going to keep us healthy through the winter and give us sustained energy release.
Here are a couple of my go-to options for nights like these. Healthy, but also hearty and warming. Enjoy!
---
Hearty Lentil Soup

This is a great option, chock-full of vegetables and easy to make from scratch. Made from a base of onion, celery potatoes and carrots, the lentils are then added with tomatoes, green beans and a blend of paprika, cumin and curry powder to give it a bit of a bite. Lentil soup can be made in less than an hour in a slow cooker, and can be made in bulk to eat the next day or freeze.
Benefits
Lentils are an excellent source of plant-based protein for those wanting to steer away from animal products. They're also full of polyphenols – active compounds that fight against harmful agents in the body (everything from ultraviolet rays and radiation to heart disease and cancer) and have been linked to long lasting health benefits, including cardiovascular health and diabetes prevention.
By adding potatoes and vegetables, a good lentil soup effectively becomes a complete meal. The perfect balance of protein, fibre, low glycaemic carbohydrates and moderate amounts of fat.
---
Chicken Cacciatore
An Italian Classic! Another one pot recipe consisting of chicken, onions, tomatoes, herbs, vegetables and a dash of Red Wine. A blend of garlic, carrots, bell peppers and olives add to the distinctive flavour of the rustic tomato sauce. This dish can be made using chicken thighs, or the lower fat option of chicken breast. It is traditionally served with pasta, rice or mashed potatoes which can easily be switched out with zucchini noodles or steamed vegetables if you're looking for a lower carb option.
Benefits
Carrots are also rich in antioxidants, reduce risk of cardiovascular disease, fight cancer and help maintain good eye health. Red wine has a plethora of benefits and can help improve sleep, increase a person's lifespan, is rich in antioxidants and anti-cancer properties, can help lower cholesterol and reduce inflammation. (I don't need to add 'when consumed in moderation' do I?)
---
Oat Milk Hot Chocolate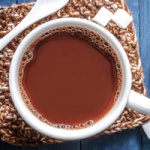 Oat milk hot chocolate is creamy and delicious. It is lactose and gluten-free and sweetened with pure maple syrup. Hot chocolate is the perfect drink to warm you up during the winter months. The cocoa powder gives you the decadent chocolatey taste and adding a bit of cinnamon to it can really enhance the flavour.
Benefits
Hot Chocolate is even richer in antioxidants than wine and tea. In addition, the Flavonoids in the cocoa beans can help improve arterial health. Cinnamon is known to have a myriad of health benefits including anti-viral and antibacterial properties. It has prebiotics which improve gut health and studies have found that cinnamon can assist in lowering blood sugar and the risk of type2 diabetes.