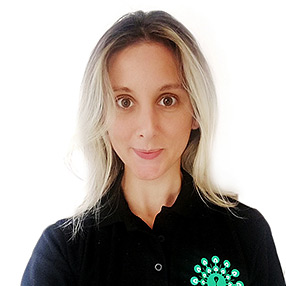 Qualifications:
BA (HONS) Contemporary dance
Level 3 Matwork certification
Assisted Stretchtologist
Favourite exercise:
Pike as it focused on core mainly but also on oblique when using side pike. Different series of exercises for a same muscle group which make the workout challenging by using different variations.
Alexia is originally from France where she started to do different sports at a young age. She used to ski, swim and started her dance training alongside those activities.
Her dance background includes mostly Ballet but also Jazz and Contemporary dance. She trained professionally in Ballet, first in Lyon-France, before moving to London in 2014 to pursue her professional training and started her dance career. She participated in workshops in Austria, Switzerland, France and England where her dance journey allowed her to meet and dance for different choreographers. She was first introduced to the Pilates Method after an injury and used the method as rehabilitation. She then kept this as a part of her dance training as she found this really interesting to see and understand the mechanism of the body and how to look after it. The method is also a very good way of keeping a healthy lifestyle but also preventing injury and reduces pain.
She completed her Pilates Matwork Course with Body Control Pilates in 2020.
To deepen her knowledge in human's body mechanism and ho to look after it, she qualified as an assisted stretchtologist where the main focus is to release tensions and body tissues through exercises of assisted stretches.
She has found in Pilates a better mind and body awareness as well as a way to improve people's posture. She also likes to combine her exercises while incorporating the Alexander technique (a method that she herself undertook as part of her rehabilitation after her injury). Alexia's classes are built to guide people, encourage them, help them reaching their goals and challenge them in their progression. Her Favourite part of the job is to see people smiling and laughing!
When Alexia is not working at the studio, you will most likely find her doing more exercises outdoor such as running with her Spaniel, enjoying good food from different market places or visiting and discovering more places.