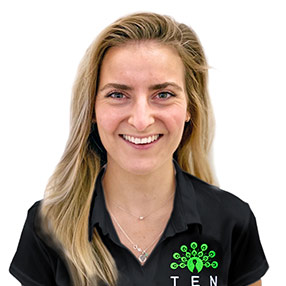 "Strength and stability comes from within"
Qualifications:
BSc (Hons) 1:1 Physiotherapy
HCPC registered
CSP registered
Sports Massage Diploma
Favourite exercise:
Reformer Pike
Bio:
Amy graduated from York St. John University, England with a First Class Honours degree in Physiotherapy. She went on to specialise in musculoskeletal conditions and injuries, reaching Senior Specialist level within the NHS, treating a variety of patients and conditions, from acute to chronic.
Amy then progressed into private practice in London, which is where she was introduced to Reformer and Classical Pilates as a means of supporting her clients' rehabilitation. Within this setting, she created bespoke programmes for each client to help them achieve their fitness goals.
In her group classes, she combines an in-depth understanding of how to create enjoyable and effective Pilates-based programmes, with the ability to adapt workouts to compensate for current or previous injuries – ensuring that her sessions are safe, challenging and energising.
In her spare time, Amy loves hopping on the reformer to practice new techniques! Or when she's not in the clinic, you'll find her on the hockey pitch.