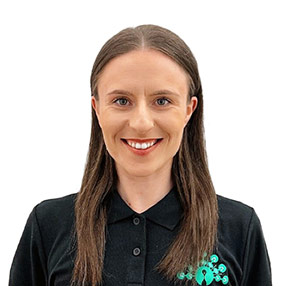 "Mindset, habits, and routines are the building blocks for success towards your goals"
Qualifications:
Level 6 Diploma in Professional Musical Theatre, SLP College (Trinity College London validated)
TEN Academy – Dynamic Reformer, Pre and Post Natal (pending)
Level 3 Diploma in Mat Pilates (ongoing)
Level 2 Fitness Instructor (ongoing)
Favourite exercise:
The glute bridge – a sequential movement combining fluidity alongside lower body strength
Bio:
Amy connected with Pilates during her professional dance training where Pilates was implimented into the morning routine for injury preventation, rehabilitation, strength and postural focus. Within weeks the progression was noticable and Pilates allowed Amy to train 5 days a week safely and with confidence. These benefits are what has brought Amy into a clinical setting after years of experience in the dance and fitness industries. Amy's class approach will mesh together the focus on postural alignment, core stability, upper and lower body strength along with creating a fluid sequence of movement to music with stretching and strengthening.
Amy's love for solo travelling and adventure hand in hand with clinical fitness are the blend that make her passionate about wellness and self awareness of the body and mind (in and out of the studio) and aims to bring this mantra within her classes. Passionate about helping others, providing postural corrections and enhancements, watching personal development 1-1 or in a group and providing a positive learning environment is how Amy tailors her classes. Whether you start as a beginner to the reformer or with handfuls of experience, everyone is welcome to begin their Dynamic Pilates journey at Ten with Amy. You will leave her classes with a greater understanding on the dynamic reformer Pilates approach including anatomy terminology , a strong understanding on breathing- it's benefits and how to implement it into Pilates and daily life, core stability to use every day out of the studio alongside engagement of muscle groups and the knowledge needed to perform each exercise safely and to your individual range of motion.
The reformer will assist in providing an enjoyable and beneficial workout which can be used for those requiring rehab fitness or likewise for those who want to focus on their core and posture, it really is for anyone!