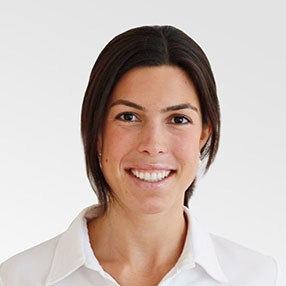 Qualifications:
HCPC
MCSP
ACCP
BHSc Physiotherapy (Spain)
CO Degree in Osteopathy
Post Grad: Master's Degree in Physiotherapy for Physical Activities and Sports. Acupuncture Foundation Training.
Favourite Thing to Treat:
Sports injuries; shoulder, back and knee pain; post surgery.
Bio:
Ana graduated from San Pablo CEU University (Spain) in 2005 with a degree in Physiotherapy, before going on to gain a Master's Degree in Physiotherapy for Physical Activity and Sports. Not stopping there, she also completed a degree in Osteopathy in 2011.
She gained a breadth of orthopaedic experience working in a number of private and public hospitals in Madrid before moving into private practice, specialising in Musculoskeletal and Sports Physiotherapy.
Since 2011, Ana has been based in London, where she treats a wide variety of patients with a particular interest in sports injuries, orthopaedic and musculoskeletal conditions (such as back and neck pain and shoulder, knee and ankle problems).
She continues to develop and update her skills, attending numerous postgraduate courses; Acupuncture, Dry Needling, Mulligan Concept and Pilates to name a few.
Outside of work Ana is a keen marathon runner and a member of the Serpentine Running Club. Through her sporting background, she is distinctly aware that time is of the essence, so a primary focus for her is on returning patients to full physical fitness and mobility, in the fastest timeframe and safest environment possible.