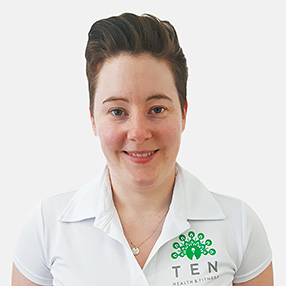 Qualifications:
Favourite things to treat:
My favourite area to treat is the knee – I have a complex injury history myself so know how debilitating a knee injury can be. I enjoy getting my patients back to full fitness, whether that is running a marathon or just being able to play with their children.
Angela graduated in 2011 from Leeds Metropolitan University and immediately knew she wanted to specialise in musculoskeletal injuries. Having ruptured her ACL in her first year at university, she had experienced first-hand how debilitating an injury can be and the challenges you face as a patient during treatment and recovery, both physically and mentally.
Moving to London to work for a leading national physiotherapy provider, she now has over 10 years of experience working in a private practice environment treating a variety of patients with acute injuries, chronic injuries, pre and post-operative rehabilitation.
Her goal as a therapist is to identify the cause of each patients' symptoms and utilise her skillset to rehabilitate them back to their desired levels of function. As a manual therapist, she combines massage therapy, biomechanical assessments, joint mobilisation, exercise-based rehab and education to work with patients to help them achieve their goals.
She takes pride in empowering patients in their journey and supporting them to achieve their goals – which could be anything from running an ultra marathon to being able to play with their children or just to be pain free when walking up the stairs. She makes sure to equip her patients with the knowledge needed to continuously support their progression and prevent reoccurrence even after their initial injury has been resolved.
She likes to treat all areas of the body but in particular knees, necks and shoulders – (these are all areas where she has had injuries herself and imagines this list will only grow over the years!)
Having been through surgical procedures as well as rehabilitations she is able to support patients through each stage of their journey. She makes sure each of her patients feel in control of their rehabilitation journey by empowering them in their decision making, defining their goals and working with them towards those goals.
In her free time, she enjoys going to the gym and playing a variety of sports but more recently will be seen running around after her son or our pug Mr Wiggles.