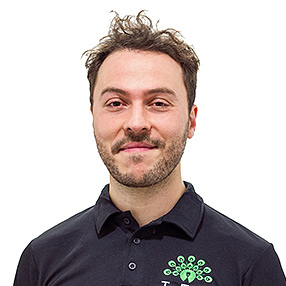 "As much as possible, as little as necessary."
Qualifications:
Certificate in Pilates for Rehabilitation with Polestar® Pilates
(R-1, R-2 and R-3).
Favourite exercise:
The Pelvic Lift (Bridges), especially variations with pelvic shifts, twists and eights which create small and focused mobilizations throughout the spine.
Bio:
Antonio had already trained as a Physiotherapist in Spain before he started to train as a professional dancer. During this time he also completed his Pilates training in 2003, focusing on using Pilates both as a rehabilitation tool and as a bridge between his dance and physiotherapy practice.
Whilst working as a Pilates instructor from 2003 and 2005 in Madrid Antonio studied contemporary dance at the Royal Professional Dance Conservatoire (Mariemma) in Madrid in 2005. Thereafter he moved to London to undertake a more intense dance training programme, completing a Cert HE and an MA at the London Contemporary Dance School.
He joined Little Venice team in 2008, and continues to work as a professional dancer and choreographer (winning a number of scholarships and awards along the way).
As well as bringing his backgrounds in physiotherapy and dance, into his Pilates teaching, Antonio is interested in mental imagery, mindfulness and body awareness as tools for repatterning movement.
His approach not only makes the Pilates repertoire more accessible, even to the least experienced clients, but also allows him to adapt it to match each individual client's needs.
Antonio loves working with the simplest exercises in the Reformer yet exploring them in depth. He also loves the possibilities that the Little Venice equipment offers – particularly the Cadillac – for working on spinal mobilisation and flexibility.
Antonio is fluent in English and Spanish.