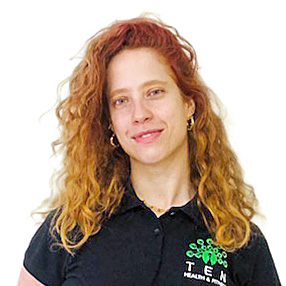 "Train smarter not harder!"
Qualifications:
Mat Pilates
Reformer Pilates
Comprehensive Pilates
Favourite exercise:
Footwork on the Reformer – you can really correct the alignment of the whole body, from head to toe. The possibilities are endless.
Bio:
A former professional ballerina, Aydanne has been taking Pilates classes since the age of 12, initially to help improve physical performance in dance and later for rehabilitation. As with many elite dancers, Aydanne's time as a ballerina didn't come without injury. After 4 knee surgeries, she spent a lot of her time in the Pilates studio getting stronger, learning about her own body and how she could get the best from within. During this time, she also practised other forms of movement such as Yoga, Gyrotonic, Bo technique, Alexander technique and Feldenkrais.
Aydanne then went on to teach Pilates because she wanted to stay connected to her body and help others do the same, gaining her first professional qualification in 2016.
In 2019, Aydanne moved to London, where she continued to teach Pilates. She is expert at uncovering the source of any "bad habits" in the way we move and using the most effective exercises to help rebuild and realign from head to toe.
Aydanne has previously worked with professional dancers, actors, opera singers, pregnant and postpartum women, and not to mention, men and women of all levels of experience who simply wish to move better. Whether she's working with an elite athlete or someone with a sedentary lifestyle, her approach is the same – it's all about truly respecting and understanding the body of each individual and helping her clients regain self-confidence and connection with their own bodies.