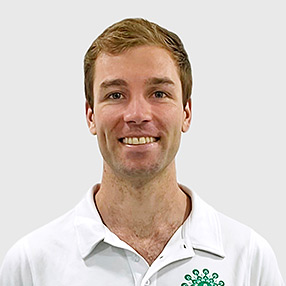 Qualifications:
Bachelor of Physiotherapy (Honours)
HCPC
MCSP
MAPA
Dry needling
Favourite things to treat:
Sporting injuries, neck pain
Chris graduated with First Class Honours in Physiotherapy from the University of Newcastle, Australia in 2016. After graduation, he built his experience treating patients after orthopaedic surgery and in the musculoskeletal physiotherapy clinic at Royal Prince Alfred Hospital in Sydney.
He went on to work in a private physiotherapy practice in Sydney, where he further developed his skills treating a wide range of patients with a multitude of conditions. He became the team physiotherapist for local Sydney Football and Rugby League teams, where his experience with sporting injuries and prevention helped his players perform at their best.
Chris moved to London in 2020 to continue his physiotherapy career and explore Europe (quickly cut short by Covid-19). He has specialised in recognition and management of complex conditions, particularly involving low back pain.
Chris has a special interest in manual therapy, particularly for the neck and back. His empathetic, person-centred approach focuses on working with the patient to find the best management strategy to help them get back on track, usually with a combination of hands-on therapy and targeted exercises.
Outside he treatment room you will find Chris running around a hockey pitch, cycling or rock climbing with his friends – or heading to the coast for some windsurfing if the wind is up!