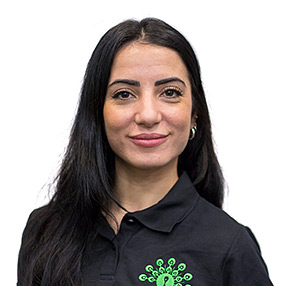 "A little progress every day adds up to big results."
Qualifications:
Mat Pilates Instructor Level 3
Small equipment certificate
Classes:
Favourite Exercise:
Pilates Push-up – it's total body exercise.
Bio:
Cinzia is a Pilates instructor with a huge passion for exercise and fitness. Her determination, enthusiasm and motivating approach come from her experience as a former professional dancer.
She has been working with movement since she was five years old, at first with rhythmic gymnastics, followed by ballroom/latin dance and ballet.
Afterwards she spent much of her career working in retail as a store manager and visual merchandiser. Having London for work five years ago, Cinzia was looking for something to keep her active. She turned her attention to Pilates – her experiences as a dancer having already convinced her of the benefits – knowing about the benefits. The more she learned about the method, and the more she saw results from her own practice, the more impressed she became.
It was then that Cinzia switched careers, got her qualification as Mat Pilates teacher and decided to share her passion for movement.
As an instructor, her purpose is to help people from all walks of life to feel better, achieve better posture, relieve pain, move more efficiently – and most importantly feel confident and aware of their own body. She believes that a strong, healthy body is necessary for longevity and happiness.
When she is not teaching you will find her practicing Pilates, Yoga and Pole fitness. She is also a massive fan of art, street art, dance and nature and she tries to spend most of her spare time in parks and holidays by the sea.