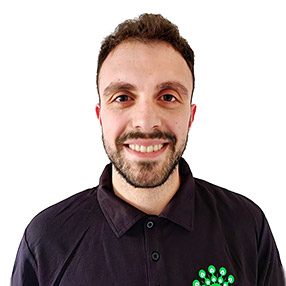 "Taking small steps for great outcomes"
Qualifications:
BSc Sport and Exercise Science
MSc European Master of Science in Health and Physical Activity
BACPR Level 4 Exercise Instructor
First Aid at Work
Emergency First Aid at work (EFA)
Motivational Interviewing
Exercise Referral Practitioner
Favourite exercise:
Any exercise to target the glutes and the posterior chain.
Dario is an enthusiastic and passionate Clinical Trainer. Over the years he has developed a deep interest in wellbeing and exercise science. After completing his bachelor degree in Sport and Exercise Science, he continued his studies with a European Master degree in Health and Physical Activity.
Knowing more about how exercise can be both a preventative medicine and a treatment to avoid further escalation of underlying conditions. Dario gained valuable experience at the Imperial College NHS Trust in Cardiac Rehabilitation, liaising with exercise professionals and other figures of the multidisciplinary team to best understand how to empower people and promote an active lifestyle.
He joined Ten Clinical with a sound knowledge and expertise and a desire to help others achieve their goals. In his day-to-day role, he enjoys the challenge of applying his skills in practice, always showing a caring attitude and a dedicated approach. Seeing his clients' improvements over time, and guiding them along the journey towards better health, is the most rewarding part of his job.
Also an excellent Pilates teacher, Dario has been able to apply his background and combine it with his Pilates training. Being a lifelong learner, he enjoys updating his knowledge and expertise to gain professional and personal development.