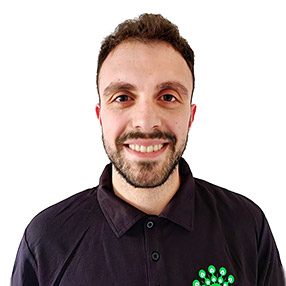 "Taking small steps for great outcomes"
Qualifications:
BSc Sport and Exercise Science
MSc European Master of Science in Health and Physical Activity
BACPR
Emergency First Aid at Work & First Aid at Work
Motivational Interviewing
Favourite exercise:
Squat/legs
Bio:
Dario has always had compassion for others. Driven by his desire to help people improve their quality of life, he has worked hard over the years to develop his skills in order to make this his career.
After graduating with his Sport and Exercise Science degree in Rome, Dario took the opportunity to complete his European Master of Science in Health and Physical Activity, which allowed him to study the principles of exercise therapy in the clinical environment. Through this, he came to understand just how beneficial exercise medicine is in multiple areas – from the improvement of mental health and the preservation of cognitive function in later life to the prevention and management of cardiovascular and respiratory conditions.
To expand this knowledge and deepen his understanding of these conditions, Dario trained further with a BACPR course, liaising with other professionals at the Imperial College Healthcare NHS Trust at the same time to improve his ability to apply cardiac rehabilitation principles in everyday practice.
Using this experience, Dario always looks for the best possible ways to enable clients to achieve their goals, and overcome any barriers and limitations they may be experiencing as a result of life-changing events.