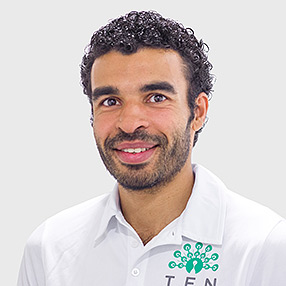 Qualifications:
BTEC level 5 Sport and Remedial Massage Therapy
ITEC level 3 Sports Massage
Kinesiology Taping
Dry Needling
Favourite things to treat:
Neck, Lower back, Lower legs.
Bio:
Emmanuel gained his first sports massage qualification in 2012 and has been working in the massage industry ever since. Over the years, he has gone on to complete further training in Sport and Remedial Massage Therapy, Kinesiology Taping and Dry Needling.
Since qualifying, Emmanuel has had the opportunity to work in various multi-disciplinary clinics alongside physiotherapists, osteopaths, chiropractors and sports doctors.
He is able to call on a number of treatments and techniques to restore and/or maintain the functions of your body, including Muscle Energy Technique, Soft Tissue Release, Kinesiology Taping and Dry needling. As muscle tightness affect your posture, sporting performances or generate chronic pain, Emmanuel sessions focus as much on addressing the underlying cause as on easing the symptoms.
Emanuel has a breadth of experience treating a variety of people, from office workers, to singers and sports people. He has worked with a number of elite athletes, at the London 2017 World Athletics, with Saracens RFC (Rugby Union), He currently spends one day a week working with national level junior athletes.
Passionate about sports himself, Emmanuel played tennis and basketball, and is a keen and dedicated runner with 3 marathons under his belt along with several half marathons (he took a break to practice Cuban salsa intensively for 2 years, but is now back to his running training).