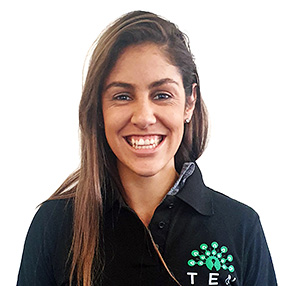 "The smallest changes can ripple into the biggest movements"
Qualifications:
Bachelor of Arts Honours in Biokinetics
BA Sports Psychology
Be-activated 123 certified level 1 and 2
First Aid and CPR level 1 and 2 certified
Advanced Course in Diabetes care for Health Professionals certified
The Bio Specific Upper Quarter course
The Ultimate Lower Quarter course
Favourite Exercise:
Belly breathing – breathing correctly paves the way to all movement patterns.
Born in South Africa and raised by a single mother, Gabriella learnt from an early age that hard work, determination and perseverance paved the way for her to achieve her goals and dreams.
From a young age, Gabriella fell in love with playing sport, and excelled in tennis, achieving full provincial colours and earning a nomination for sportswoman of the year, two years running. As she got older, her passion for sport grew as well as her need and want to help people, which left her wondering if the two things that she loved the most could be combined.
With an undergraduate degree in BA Sports Psychology already under her belt, Gabriella wished to use her knowledge and experience to work with sports related injuries and issues. It wasn't until she was introduced to the field of Biokinetics that she came to learn more about those suffering with autoimmune, neurological and chronic conditions, and realised that she could make more of an impact working in this area than she could ever do with sports.
And with that, Gabriella began working to turn her dream into a reality, completing her Bachelor of Arts Honours in Biokinetics at the University of Johannesburg, South Africa, in 2015. She continued to participate in sport, moving away from tennis and into indoor and outdoor football, whilst continuing to expand her knowledge through courses in sports massage, nutrition and sports nutrition.
Her determination and persistence to work in her chosen field landed her an internship at the Centre for Diabetes and Endocrinology in South Africa. During this time, she received extensive training and became certified in dealing with diabetes and diabetic related complications. Gabriella then obtained a position with a practice as a full time Biokineticist, where she began actively working with autoimmune, neurological, chronic and special populations.
As a Biokineticist, Gabriella is professionally trained to apply and prescribe exercises and physical activity specific to a person and their individual needs. Her knowledge of human movement and her understanding of a broad range of diseases and how they impact an individual, allows her to treat a patient holistically in order to achieve the best possible outcome. From this aspect she can then actively apply exercise interventions and rehabilitation techniques to influence and change a person's life.
Gabriella's desire to keep learning, which also allows her to see her patient's bodies in a different light, comes from studying a variety of different courses that separate her from many other professionals within in her field. Throughout 2017 she completed courses that stimulated her mind and enabled her patients positively. She took it one step further by achieving her level 1 and level 2 with Douglas Heel's Be activated 123 – a course that truly honed her holistic approach, from analysing breathing techniques, through to posture and correct movement abilities – altering the body to perform its basic movements.
Away from work, Gabriella enjoys participating in Calisthenics which not only allows her to keep her body strong, but also acts as her stress relief. She enjoys reading, learning new things and actively engaging with people to expand her knowledge of the world and current affairs. Her move to London in 2022 allows her to influence and bring change to a new group of people and also to grow as a person both in personal and business life.