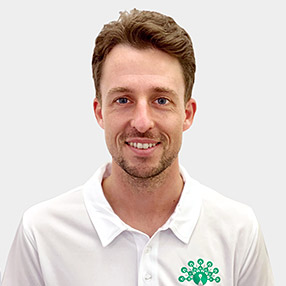 Qualifications:
BTEC Level 5 Diploma Soft Tissue Therapy
BTEC Level 3 Diploma Sports Massage Therapy
Diploma Kinesiology Taping Principles & Protocols
Training For Warriors Level 2
Sports Massage
Remedial Massage & exercises
Deep Tissue
Soft Tissue
Soft Tissue Release
Myofascial release
Positional release
Muscle Energy technique
Neuromuscular technique
Injury treatment & Prevention
Post-acute Rehabilitation
Posture & Functional exercises
Sport & Active lifestyle advice
Member of the Federation of Holistic Therapists (FHT) & The Institute of Sport & Remedial Massage (ISRM)
Favourite things to treat:
Back, shoulders and legs
Anything Tennis or Running related
Bio:
Coming from a sporting background, James has played Tennis his whole life, and coached players during a career that spans 20 years. Throughout both his playing and coaching years, he has suffered his share of injuries, motivating him l to learn about the body and ultimately how to look after it. His first step towards this goal was becoming certified as a level 2 trainer with Training For Warriors (TFW), a global life and fitness coaching organisation.
As he progressed as a coach through further tennis qualifications and CPD, along with TFW, his experience and understanding of biomechanics in sport, the physical stresses on the body and the importance of self-care also grew. As a result, James is well qualified to empathise with his clients and their injuries r niggles, and is equipped with the tools to help with any sports-specific or general injury they may be suffering with.
In 2015, James applied for a place at the next London Marathon. In the same year, he developed an SI Joint/hip dysfunction. Determined to run, he drew on his own knowledge of rehab, underwent massage therapy, and went on to complete the marathon injury-free. This fueled his desire to learn more about massage, so he went on to gain his qualifications with the School of Natural Therapies.
James has experience treating tennis players and coaches, distance runners and Spartan & Tough Mudder event runners. He also trains with the latter and has volunteered at events.
James thrives on helping people and has always lent a hand (or two) where possible – no pun intended! He is adept at guiding clients through their fitness journey, whether it's rehab from an injury or operation, continual maintenance to help perform at their best or an unwinding massage to help cope with whatever life brings.
Combining soft tissue therapy with methods such as myofascial & positional release and muscle energy techniques, his aim is to help relax, release or re-energise the body and mind. He never backs down from a challenge and will endeavour to find an answer for his clients.
James loves music, animals, the Marvel Universe, and is currently doing a Diploma in Sports Nutrition.