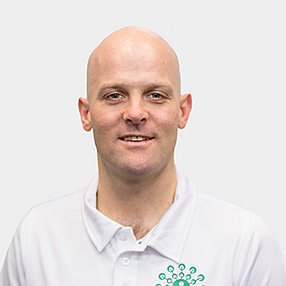 Qualifications:
BTEC 5, Sports and Remedial massage therapist – LSSM 2012e
Foundation Acupuncture and dry needling for pain – JLACT
Favourite things to treat:
Neck, shoulder, anything cycling or running related.
Bio:
James is a highly experienced Soft Tissue Therapist who trained with the London School of Sports massage as a BTEC 5 Sports and remedial massage therapist.
After spending the first 10 years of his working life around music festivals and events, James decided it was time he followed his true passion and retrained in sports massage.
Over the years James has worked alongside physiotherapists, coaches and medical teams in elite sport and private practice. He currently also spends one day a week with Olympians and Para-Olympians at the English Institute of Sport (EIS).
James has a passion for helping to resolve shoulder and neck issues, with a keen interest in headaches and mental health. He approaches all treatments from a holistic point of view, with an eye to each individual's lifestyle, to give each and every person the best care for their needs.
James understands the importance of finding the right therapist to help people achieve their aims whether that's to continue to train, returning to activity, or just to improve all-round well-being.
A keen cyclist, and ex-baseball and Aussie Rules footballer who is happiest out in the Kent hills, James also loves time at home in the garden, radio on, and dog Milly by his side, or cooking for friends.